Vodafone has become the first of the big mobile networks in the UK to name a date for its 5G network launch. We know that the likes of EE, O2 and Three will all flick the switch on their 5G networks sometime this summer but none of them has publically set a date as yet. Vodafone says its 5G service will roll out starting 3rd July 2019, and it has named seven cities ready for the turn-on. However, being the first to name a launch date doesn't mean Vodafone will actually be the first to open its 5G network to customers, some still expect EE to do that.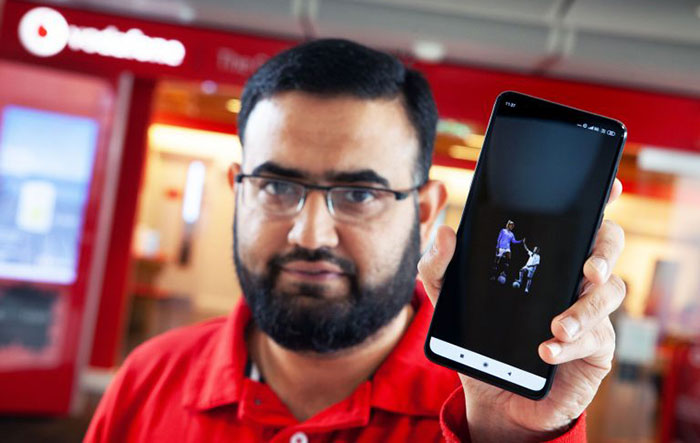 Atif Liaquat, retail store manager at Vodafone's UK headquarters, takes delivery of the first 5G smartphone.
In a press release today, coinciding with its latest quarterly financials, Vodafone provided five 5G bullet points it wished to raise awareness about, as follows:
Vodafone 5G available in seven cities at launch, with 12 other cities live by the end of 2019
First company to announce 5G roaming in four European countries
3 July switch-on for both business and consumer customers, with 5G priced the same as 4G
Four 5G smartphones and a 5G home router coming soon
Wasps rugby stadium and netball venue to be transformed into 5G entertainment arenas
The initial 3rd July switch-on will take place in these 7 cities: Birmingham, Bristol, Cardiff, Glasgow, Manchester, Liverpool and London. Later in the year, Vodafone will add Birkenhead, Blackpool, Bournemouth, Guildford, Newbury, Portsmouth, Plymouth, Reading, Southampton, Stoke-on-Trent, Warrington and Wolverhampton to its 5G coverage areas. Vodafone didn't just talk about its UK 5G plans today; if you are travelling to other countries the telco's established networks in UK, Germany, Italy and Spain will provide 5G roaming from this summer too.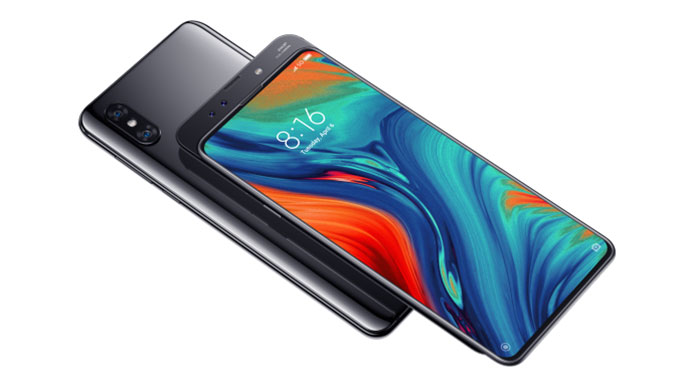 Xiaomi Mi MIX 3 5G
On the topic of pricing, Vodafone has decided to price its 5G service the same as its existing 4G packages. Hopefully, given time and competition, service pricing should continue to decline and data allowances increase. New price plans will be available from next week when the Xiaomi Mi MIX 3 5G becomes available.
Vodafone reminds us of the improved performance we should get from 5G. It says that it has demonstrated 5G connectivity up to ten times faster than 4G in key commuter locations around the UK and that faster data will be ensured in congested areas such as busy shopping centres, sporting events or music concerts. Furthermore, Vodafone's sponsorship of ESL means that it is focussed upon bringing fast and responsive services to gamers.
Handsets with 5G modems will be essential to get the most out of the new network capabilities, of course. Several new phones (and a 5G home router) will become available from Vodafone ahead of launch, including the following:
the Xiaomi Mi MIX 3 5G smartphone, which will initially be available exclusively from Vodafone online and in store from 23 May 2019;
the Samsung S10 5G and Huawei Mate 20 X (5G), which will be available for pre-order later this month; and
the Huawei Mate X (5G) and an exclusive 5G home router, called the 5G Gigacube, which will launch this summer.
The above products can initially be used with 4G services, and be ready for 5G once launched in your area.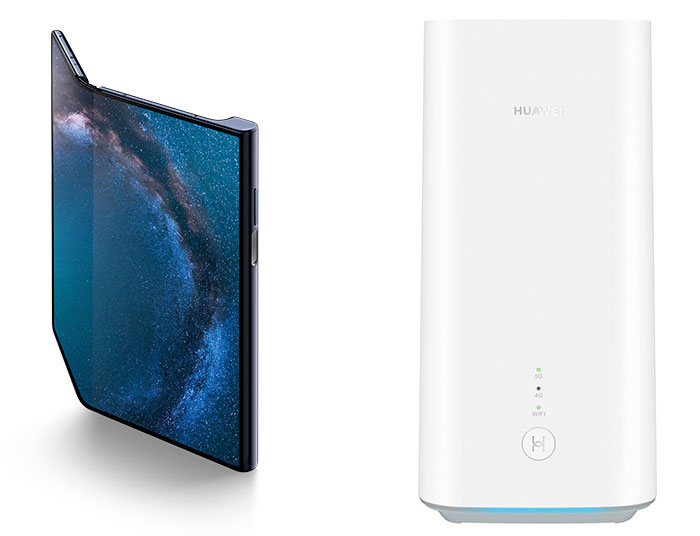 Huawei Mate X (5G) and Vodafone 5G Gigacube
With Vodafone's announcement in the news and summer nearly here I don't think it will be long before we hear more concrete from EE, O2 and Three about their respective 5G rollout plans.