EE has announced its 5G mobile broadband plans, making it the first UK telco to do so. Interestingly the firm isn't pitching its latest 5G offering as a replacement for home broadband but that is likely because its plans are seeking to squeeze the maximum fees from its first mover advantage. I say this as the plans are limited at 50GB (£50pcm) and 100GB (£75pcm) data - similarly to how we used to suffer with wired in-home broadband packages about 15 years ago. These two year plans will be increased in price in line with the RPI every March.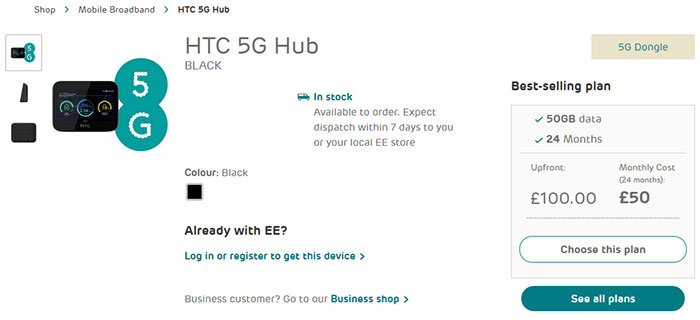 Bundled with these mobile broadband offerings is the handsome looking HTC 5G Hub, which was launched back at the MWC this Feb. This hub boasts impressive specs and would cost £500 as a standalone purchase, according to EE's press release today - but remember you are paying an additional £100 upfront charge on both of these contracts.
Please check my link above for an overview of the powerful specs of this hub, which includes an SD855 SoC, X50 5G modem, 5-inch touch screen, 4GB of RAM, 32GB storage (plus microSD), lots of wired/wireless connectivity options, dual-speakers and voice control, 'all-day' battery, and Android 9 Pie with Google Assistant. Three will be using the same hub when it launches its 5G (mobile) broadband packages, we hear.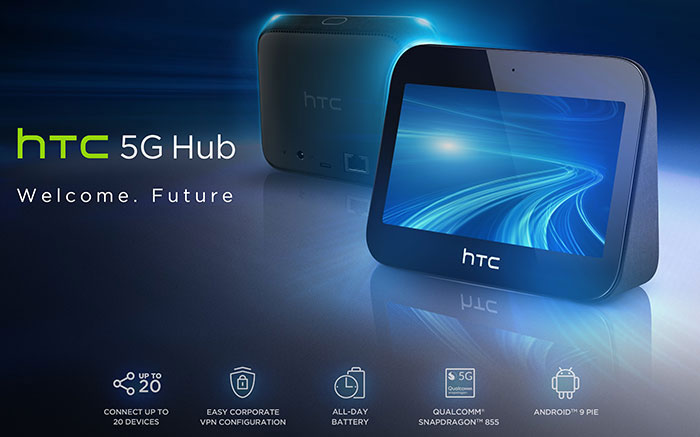 With its 5G network and the HTC 5G Mobile Smart Hub, EE promises customers will "benefit from smooth 4K video streaming, low-latency gaming, and 5G mobile hotspot connections for up to 20 users". The 5G 'mobility' of this broadband offering is not great at the time of writing. There are only six areas currently covered by EE 5G service; the UK's four capital cities - London, Cardiff, Edinburgh and Belfast - plus Birmingham and Manchester. However 10 more cities will be added to the list before the end of the year. EE says that the busiest parts of Glasgow, Newcastle, Liverpool, Leeds, Hull, Sheffield, Nottingham, Leicester, Coventry and Bristol - will all have 5G during 2019.
If you are reading this and are a little disappointed that EE hasn't launched a 5G home broadband product, ISP Review reports that the firm does have such a product still in the pipeline. The site says that this interesting alternative to fixed line broadband services includes a router plus an external antenna and doesn't require an engineer installation.