Version reviewed - PC

What's it about?
In typical first-person shooter style, Four American Badasses armed to the teeth go on the hunt to find a secret and very deadly Russian weapon. Taking in a variety of locations across North and South America, including jungles and deserts, the squad use an arsenal of vehicles and weaponry to take out the bad guys and try to save their country from annihilation.

Review
Though Bad Company 2 doesn't quite capture the same intensity of the last two Call of Duty games, the single player campaign still stands out as being one of the finest war games of the past few years.

After a slow start, some extremely linear levels, and a number of forgettable on-rails shooting sections, the action opens up nicely, the maps get larger and the changes in terrain make for some exciting and tactically-based battles. The further you progress into the campaign the fiercer and more exciting it gets, culminating in a rousing finale.

The storyline is instantly forgettable, but the graphics and highly-detailed locations, plus the brilliant audio, brings war exploding into your room. It's very impressive when you see a town under siege, a stronghold crumble to the ground, gun-fire rattle around a building or an explosion rock Terra-firma. There are some enjoyably tense moments, when a mixture of fine animation, attention to detail and pulsating audio makes you feel like you're literally running for your life as you're battered by RPG and sniper fire, just before a tank comes rolling around the corner.

The desert and the village maps in particular are stunningly detailed and both the varied terrain and the level of destruction you can cause gives you the freedom to, and often makes you, change your tactics instantly. In one level, you'll freeze to death unless you blow up barrels on the way down a snowy mountain and stand close to them to get heat. In the desert levels, sand-storms will obstruct your view and you'll often have to take refuge from the onslaught until it clears.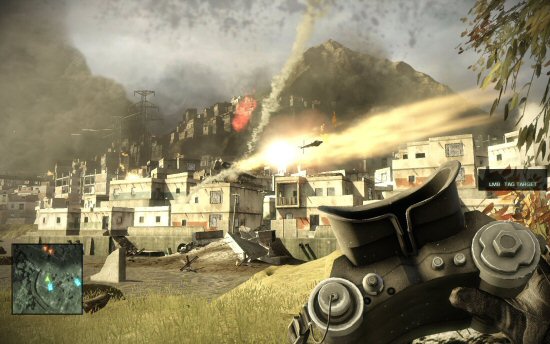 Click for larger image



Similarly, the destructible environments are both a blessing and a curse. You can be hiding in a building sniping out of a window and next minute an RPG will blow the side of the house clean-off leaving you totally exposed. It opens up plenty of tactical opportunity, plus it's great fun literally destroying a town, or seeing a guard tower topple over and then have a real impact on the environment around it.

Your team-mates work alongside you superbly and will often help you out of a tricky situation and enemy A.I. is also impressive as they take cover and intelligently react to situations, providing a stiff challenge in the harder difficulty settings. Weapons feel weighty and handle smoothly, vehicle handling is intuitive, and the whole control scheme is extremely responsive and pretty much faultless.

There are some brilliant moments in Bad Company 2, but there are also moments where it feels like a run-of-the-mill shooter, particularly early on. There are plenty of highlights though in the single player campaign, which took us about 8 hours to complete, and some enjoyable missions and locations to fight across. It's a massive shame there isn't a co-op mode, because that would have elevated our score a bit higher, but overall it's an action-packed weekend's worth of action and a fitting and enjoyable campaign to get you warmed up for multiplayer.

Please note: At the time of reviewing Bad Company 2 the multiplayer servers were down. We will be reviewing this separately shortly.Our score is based on the single player campaign.

Good Points
Smooth mechanics make it all that more enjoyable.
Destructible environments are a sight to behold.
Some stunning maps that we can't wait to see in multiplayer.

Bad Points
Cut-scenes may look great, but storyline is forgettable.
Some of the on-rails sections feel weak. GRAW 2 did it better.
Not as free-roaming as we hoped.