Performance and summary
The ambidextrous design, while fairly unique, leaves me pondering the expression 'jack of all trades, master of none,' since the Torq X3L is specifically tailored for neither left- nor right-handed gamers. With just two programmable buttons on each side of the mouse, only the two thumb-side buttons are convenient to use for left- and right-handed gamers. The other two are awkwardly located and, in practice, rarely get used as doing so requires too much concentration, potentially problematic for fast-paced games where reaction times are critical.
All the buttons, left- and right-click included, require a slightly higher-than-average amount of force to activate and are springy before actuation. By that we mean you can press them down with quite a lot of force without activating the buttons. This makes the mouse feel a little sluggish despite the lightness of the product.
Sensor performance is typical of the Avago 9500 laser; tracking performance is strong and accurate. The experience with the often-discussed laser acceleration parameters will vary depending on a wide variety of factors. These include the game title being played, the surface the mouse is being used on and the DPI level. In practice the acceleration that is user-perceivable is virtually nonexistent from our testing. If you are sensitive to laser acceleration EVGA does offer the optical sensor Torq X3 - a wise move to cater for a larger audience.
| | |
| --- | --- |
| | |
At $40 in the US, the EVGA Torq X3 dives into a highly competitive price bracket populated by gaming peripheral veterans like Corsair, Logitech, Mad Catz and Razer. The EVGA Torq X3L doesn't stand out as being either noticeably better, or worse, than the competition. There are specific scenarios where the Torq X3L finds strengths; gamers who prefer a small and lightweight design may be impressed by the quality of the sensor and companion software on offer. Furthermore, the ambidextrous design makes it a competent offering for left-handed gamers who are very often neglected in a market dominated by ergonomically right-handed designs.
The Good

The Bad

Ambidextrous form factor
Advanced sensor
LED tweaking options
Well-rounded software package

Lacking ergonomic comfort
Button presses need more fluidity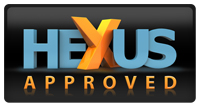 EVGA Torq X3L

HEXUS.where2buy
The EVGA Torq X3L is available to purchase exclusively from BestBuy.
HEXUS.right2reply
At HEXUS, we invite the companies whose products we test to comment on our articles. If any company representatives for the products reviewed choose to respond, we'll publish their commentary here verbatim.