Introduction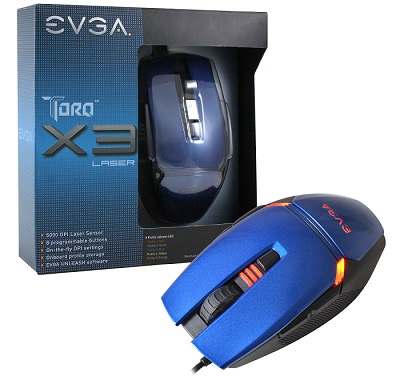 The strong growth of the PC gaming market has led to an equivalent growth in the number of related product offerings from a surging number of companies. Peripherals are one of the product segments experiencing particularly strong growth since every gaming system needs a mouse and keyboard.
Capitalising on that trend, EVGA came to the market last year with its first ever gaming mouse, the Torq X10. Premium and feature-packed it may be, but affordable it is not at £50 ($55) for the normal version and £70 ($75) for the Carbon fibre version.
In the grand scheme of things such premium-pricing means EVGA is missing out on the much larger mainstream market, where the more value-conscious consumers are looking to spend their money. To serve that market EVGA revealed a pair of new gaming mice at CES this year.
The optical-sensor Torq X5 and X3 target more affordable price points than the X10 by coming in at $50 and $40, respectively. Laser sensor equivalents, aptly named the Torq X5L and Torq X3L, command $60 and $40 prices.
Design & Hardware
The Torq X3L, the focus of today's review, sports the popular Avago 9500 laser sensor, capable of up to 5,000 DPI, as well as Omron switches. The marketed eight programmable buttons is par for the course at the price point, although, after taking out the left- and right-click buttons, there are half a dozen that you're likely to remap.

Those six programmable buttons are supplemented by 512KB of onboard storage allowing for five profiles, each with a unique combination of button assignments. Two buttons are placed on each side of the mouse, maintaining the ambidextrous design.
An inconsequential weight of just 83g and dimensions of 39mm x 118mm x 66mm make the EVGA Torq X3L one of the lightest and smallest gaming mice on the market. That makes it a difficult mouse to use effectively if you have large hands, though the reverse is also true for small-handed gamers.
EVGA provides the Torq X3L in blue while the optical Torq X3 comes in grey. The coating material isn't specified but it is a glossy plastic that's surprisingly fingerprint resistant. Dirt buildup, on the other hand, does prove to be slightly problematic on the left- and right-click around where the fingertips naturally rest.
Software
EVGA's companion software to the Torq X3L is the 'EVGA Unleash' package. A fully customisable DPI range between 200 and 5,000, with independent X and Y axis adjustment, is a significant step ahead of many competing products. The tweaking options also include angle snapping and mouse acceleration toggle as well as lift-off height adjustment.
Full-featured LED controls that allow for brightness, colour and mode adjustment add an advanced aesthetic touch that is somewhat unexpected for the price-point. The Unleash software is topped-off by a macro editor and profile management interface to make use of programmable buttons. The macro editor lacks any pre-configured Windows commands, such as a system lock function, but a full range of media- and browser-control macros are already baked-in.