Back in mid-April, HEXUS reported upon the news that Quake II RTX was going to be published as an open source project. That news followed the well-received presentation of a Quake II demo with real-time ray traced global illumination and reflections, HDR visuals, dynamic direct and indirect lighting effects, mimicked physical material light reflection properties, and volumetric lighting effects - at GTC 2019 in March.
Today, Nvidia has revealed that Quake II RTX will be available for free from 6th June. Nvidia revealed this Quake II RTX news at its Computex 2019 press conference. Alongside this announcement there is a new announce trailer showing various in-game scenes, in-game action, plus side-by-side RTX Off and RTX On comparisons. At the end of the video you will see that the RTX version of the game is the result of collaboration between Bethesda, id Software, and Nvidia's Lightspeed Studios.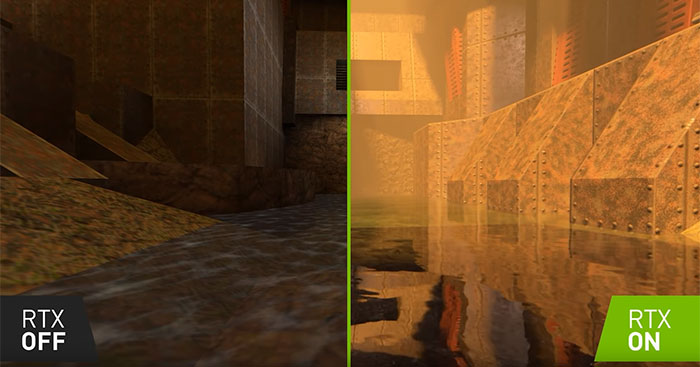 Nvidia says that the finished Quake II RTX will look even better than the version shown off earlier this year as developers continued to work on the project and have implemented "numerous improvements to image quality, and new additions that add even more path-traced enhancements".
More specifically, highlights of the RTX capable game include:
Improved Global Illumination rendering, with three selectable quality presets, including two-bounce GI
Multiplayer support
Time of day options that radically change the appearance of some levels
New weapon models & textures
New dynamic environments (Stroggos surface, and space)
Better physically based atmospheric scattering, including settings for Stroggos sky
Real-time reflectivity of the player and weapon model on water and glass surfaces, and player model shadows, for owners of the complete game (the original Shareware release does not include player models)
Improved ray tracing denoising technology
All 3,000+ original game textures have been updated with a mix of Q2XP mod-pack textures and our own enhancements
Updated effects with new sprites and particle animations
Dynamic lighting for items such as blinking lights, signs, switches, elevators and moving objects
Caustics approximation to improve water lighting effects
High-quality screenshot mode that makes your screenshots look even better
Support for the old OpenGL renderer, enabling you to switch between RTX ON and RTX OFF
Cylindrical projection mode for wide-angle field of view on widescreen displays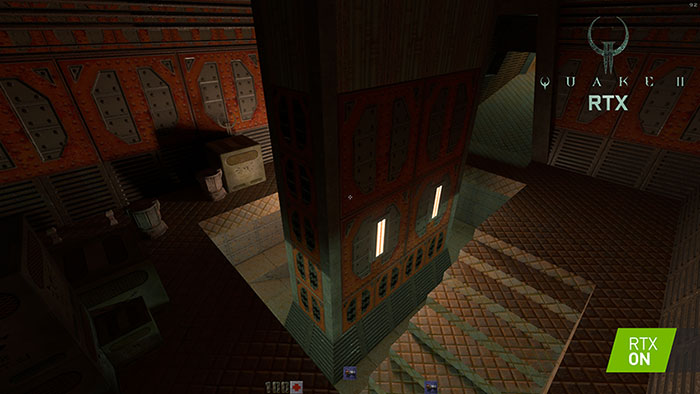 In the free game players will get to enjoy a total of three single player levels. The game will be available directly from Nvidia on the date stated. Owners of the original game, which still sells for £3.99 on Steam, will get the full game and multiplayer access as well. In a way that makes this release similar to many shareware titles of old (like Quake).
Minimum hardware requirements for Quake II RTX are:
OS: Windows 7 64-bit or Ubuntu Linux 16.04 LTS 64-bit
Processor: Intel Core i3-3220, or AMD equivalent
Memory: 8GB RAM
Graphics: Nvidia GeForce RTX 2060, or higher
Storage: 2GB available space
Nvidia hopes that Quake II fans will take on the challenge of updating Quake II expansions packs for RTX thanks to the freely available source code being made available on GitHub.