HEXUS shared the Quake II RTX video as an appendage to the news about real-time raytracing coming to the GTX 1060 or higher, back in March, during the GTC 2019 event. In brief, the video was presented by Nvidia CEO Jensen Huang during the opening keynote of GTC 2019. The demo's real-time ray traced global illumination and reflections, HDR visuals, dynamic direct and indirect lighting effects, mimicked physical material light reflection properties, and volumetric lighting effects were met with rapturous applause by GTC attendees.
The above demo was based upon the Quake II Pathtraced (Q2VKPT) proof-of-concept mod created by Christoph Schied, a Ph.D. student at the Karlsruhe Institute of Technology in Germany and former Nvidia intern. Sometime in January the project was picked up by a team of about 18 Nvidia developers including Principal DevTech Engineer Alexey Panteleev and Senior DevTech Engineer Manuel Kaemer. They worked to transform the Q2VKPT code into Quake II RTX. Furthermore, the Quake II RTX demo runs with Nvidia VKRay, a Vulkan extension that allows any developer using Vulkan to add ray tracing effects to their games.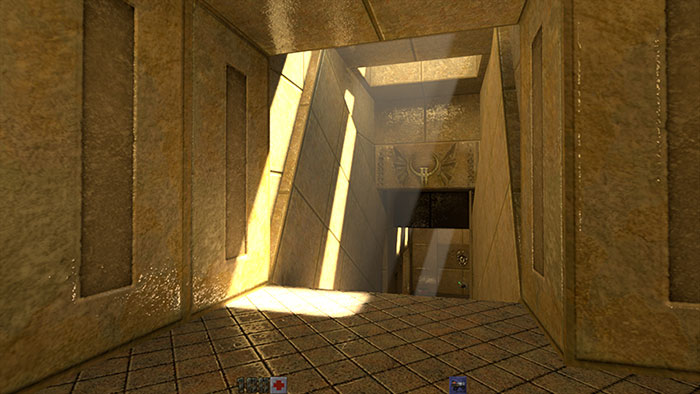 In a recent interview with Panteleev and Kaemer, AusGamers were pleased to hear that "our goal is to publish an open source version of Quake II RTX."
Despite the age of the game (1997 vintage) adding the real-time raytracing tech might make it rather too demanding on non-RTX hardware to run with 'RTX On', for a fast-paced high-resolution playable experience. However, the experience on offer will be rather drastically different, thanks to the huge visual impact of real-time raytracing and related graphicsal revamps in this title.

Click to zoom image
We don't have any named date for when the open source version of Quake II RTX will be released.
Source: AusGamers via HotHardware