Nvidia enthusiasts might have been a little disappointed with the green team giveaway bundle announced back in November. A promotional bundle deal covering only the costly Nvidia GeForce GTX 1070 and 1080 graphics cards provided a download code for Ubisoft's new Watch Dogs 2 game on PC.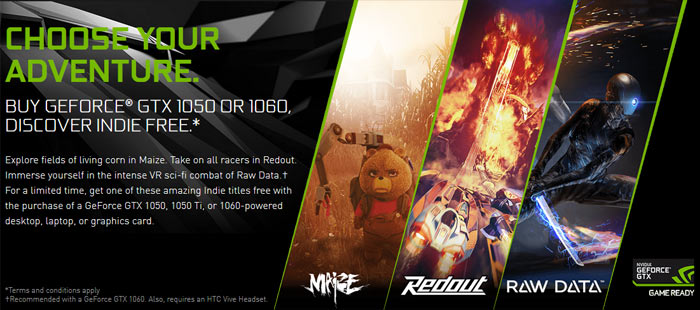 With the GeForce GTX 1050, 1050 Ti and 1060 cards having been available for a short while now, Nvidia has launched a bundle for buyers of these mid-lower tier graphics cards. Buyers of these 'best value' cards get to enjoy their pick from one of the following 'indie' gaming titles, for free:
Maize by Finish Line Games - Maize is a first-person adventure game about what happens when two scientists misinterpret a memo from the U.S. Government and create sentient corn. And that last sentence is pretty much the least ridiculous thing about the game.
Redout by 34BigThings - Redout is a tribute to the old racing monsters such as F-Zero, WipeOut, Rollcage, and POD. It is designed to be an uncompromising, fast, tough and satisfying driving experience, soaked in that vertigo that stands at the core of the arcade racing genre.
Raw Data by Survios – Built from the ground up for VR, Raw Data's action combat gameplay, intuitive controls, challenging enemies, and sci-fi atmosphere will immerse you within the surreal environments of Eden Corp. Go solo or team up and become the adrenaline-charged heroes of your own futuristic technothriller. (We recommend a GTX 1060 for Raw Data and in addition it requires a HTC Vive).
Remember you get just one of the above indie games. Nvidia wrote to HEXUS about the new promotion and claims that all its indie gaming title choices were "lauded by the community during their respective development and early access". The games on offer provide something for all tastes, added Nvidia.
As usual, this is a limited time deal (ends 30th January, or while supplies of codes last) and you must buy qualifying products from Nvidia or one of its dealer partners. For products you can choose the discrete graphics cards, or desktop or laptop computers with these GPUs pre-installed. Several countries worldwide can take part in this promotion. These are the United Kingdom, Portugal, Israel, Romania, Hungary, South Africa, and Greece.
Here in the UK there are lots of qualifying retailers and among them are Scan, Novatech, and Amazon.