In a bit of a departure for the Humble Bundlers, a new pay-what-you-want bundle has been launched, aimed at 3D games and application developers, modders and expanders - the Humble CRYENGINE Bundle.
There's a little story behind this new bundle. Crytek, maker of the CRYENGINE 3D engine, has recently announced that is it making the acclaimed CRYENGINE free to use. To make this 3D engine so much more useful the Humble Bundle team have collected together over 20,000 files "that took three years and cost millions of dollars to make," to help you populate your 3D worlds.

It wouldn't be a Humble Bundle without tiers, so the team has devised three tiers of contributions for those interested. The pay what you want tier includes Plants & Shrubs, Trees, Environment Props, Prototyping Kit, Textures, Decals & Visual Effects, MoCap Animation Pack - Basic Military Rifle and FPS 'Paintball' Project.
Moving up to the 'beat the average' price tier Humble CRYENGINE Bundle buyers can grab an Audio Kit, Ryse Nature & Animal Pack, Vehicles Standard Edition, City Pack Standard Edition, Weapons Pack, Crytek Formula Racing - Starter Project, and Nexuiz. At the time of writing the average price is pretty high, at $11.08. That might be because many of this bundle's buyers are stumping up the full $13 to buy the top tier package...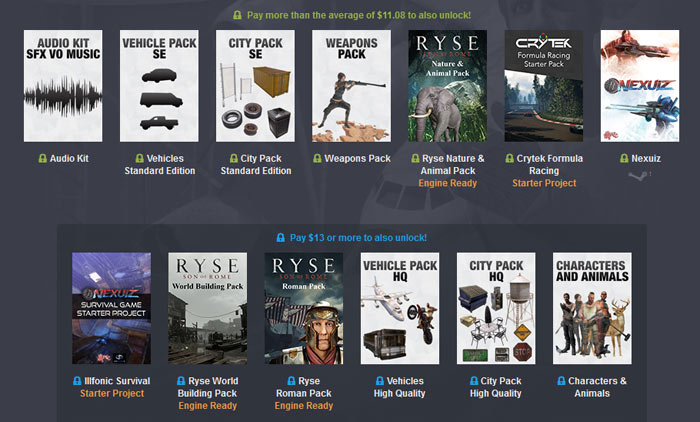 The highest tier is offered at $13 and adds; Illfonic Survival - Starter Project, Ryse World Building Pack, Ryse Roman Pack, Vehicles High Quality, City Pack High Quality, and Characters & Animals.
If you are wavering about buying into any of the above bundle tiers the Humble team are offering a Campfire Asset Pack for free.
With the above DRM-free, royalty free, source assets and the now free official CRYENGINE game development tools you will be able to jump in to "create, modify, build, and complement any game project that can be achieved with CRYENGINE," says the Humble Bundle team.
Charities supported this time around include Child's Play and Extra Life but you can even choose another charity of your preference via the PayPal Giving Fund. So far nearly 8,000 CRYENGINE bundles have been sold.