BioShock is a video game series that features in many a PC gamers' list of favourites. However back in February 2014 we reported upon the closure of Irrational Games, after the last DLC release for BioShock Infinite was complete. Would the series end and stand forever as a triology? It certainly looked like it, as Irrational Games was dissolved and all but 15 of its employees had to find new places of work.

From the ashes of Irrational Games, we heard that a small core team, headed by Ken Levine, intended to work on "a different kind of game than we've done before". Talk about the future involved "narrative-driven games... that are highly replayable".
The BioShock series was an undoubted success in many ways, including commercially, BioShock Infinite was the best selling game of March 2013, for instance. So it would seem odd for a company to slay such a cash cow. Our first hint that there might be something new coming from the BioShock universe came in July last year. 2K teased 'Come bite the Apple' using a still from the original BioShock game – however this teaser turned out to be for an iOS port of that first game.
After over a year with no significant BioShock news, late last week GameSpot interviewed Take-Two CEO Strauss Zelnick. The purpose of the interview was to dig for information on Ken Levine's new compact development team and what they were working on. Not much of substance was unearthed by Gamespot in that respect. However the conversation turned to the BioShock series and we got confirmation that BioShock games are currently in development at 2K Games California.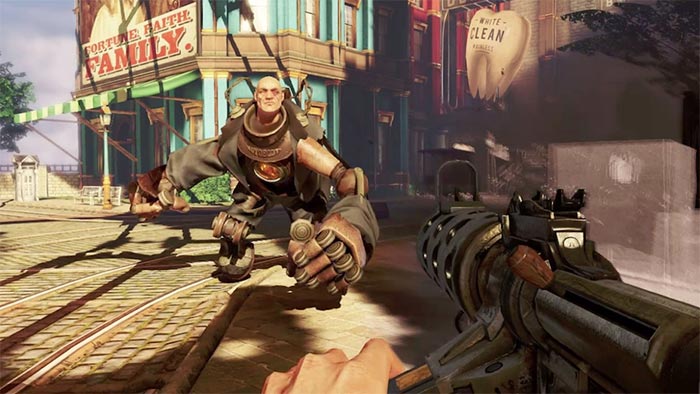 "The franchise is in the hands of 2K," said Zelnick. "They'll make announcements in due time about any upcoming releases. But BioShock is unquestionably a permanent franchise for our company and one that we do believe in." No specifics were given, or have been announced elsewhere, but Zelnick indicated that BioShock had lots of room to grow both creatively and commercially.