A survey sent to PC Gamers on behalf of Electronic Arts asks many questions about what kinds of subscription models would appeal to them. It puts forward the idea of an "All You Can Play Video Game Subscription On PC". On the following pages various options are put forward and gamers asked which options they prefer and if any would appeal enough to prompt them to subscribe.
Many HEXUS readers probably already know about EA Access, available on the Xbox One. This is a service for Microsoft's console owners which gives subscribers access to 'The Vault', a growing EA library of games, plus early releases and discounts on buying EA games. (EA Access costs £3.99 pm in the UK.) Interestingly, the recent EA sponsored survey, questioning PC gamers, seems to go well beyond the scope of the games offered by the Xbox One service.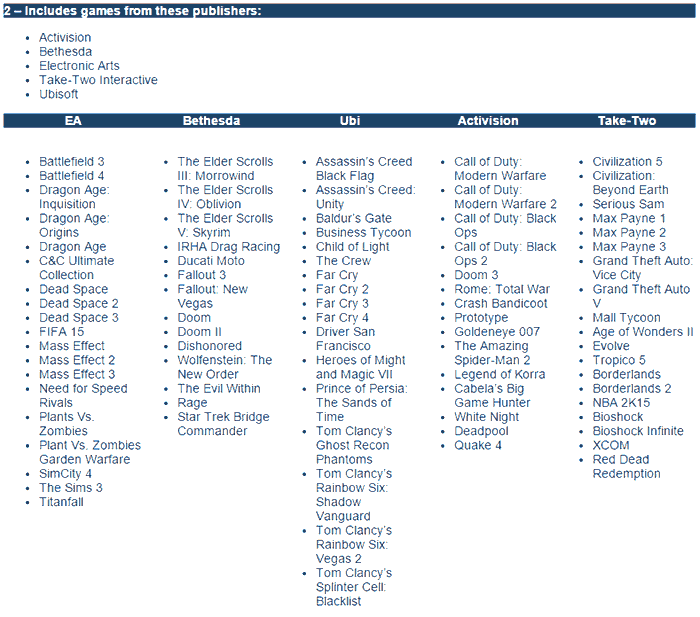 The survey lists publishers including EA, Activision, Bethesda, Take 2 and Ubisoft, and the top titles from these publishers, in trying to learn what would prompt a PC gamer to stump up for a subscription. Those surveyed were also asked their opinions on Indie games, the inclusion of DLC, discount rates on new titles, and the inclusion of trial/beta games where progress is taken over when the game is released.
Other important questions concern what delay, if any, is acceptable between a game launch and its availability to subscribers. Answers could vary between immediately and 12 months. PC gamers were asked how often new games should be added to the service to keep it attractive. Of course, that most important question of price was brought up by the survey. From the possible answers it looks like EA would price subscriptions between $4.99 and $14.99 per month, depending upon what is offered, when the possible upcoming service launches.
I've included a couple of images here in the article, showing pages and page excerpts from the survey. The full survey, as published by user Macho Madness on Neogaf, can be found on imgur.
The question is: if EA could pull together multiple publishers and their games libraries at the prices it suggests – could it create the fabled 'Netflix for PC games'?