Bioware's Star Wars: The Old Republic (SWTOR) is picking up the pace since its launch in December and now boasts 1.7 million active subscribers, claims publisher Electronic Arts.

Speaking during an investor call this week to discuss its financial report for the third fiscal quarter, EA CEO John Riccitiello revealed that the California-based company has ploughed more money into the MMO than any other game in its 30 year history.

Out of two million units sold since its release on December 20th, EA says that 1.7 million players have continued playing SWTOR past the free 30 day trial and have subscribed to the game. These early figures, he says, means that Star Wars: The Old Republic has gained more followers in the first month than Blizzard Entertainment's immensely popular World Of Warcraft (WoW) did during the same period.

The real proof of the MMOs success, of course, is going to be in how it performs in the long term. If SWTOR can get anywhere close to the amount of WoW subscribers (over 10 million as of September 2011) then EA will then be in a great position to start bragging about beating the competition.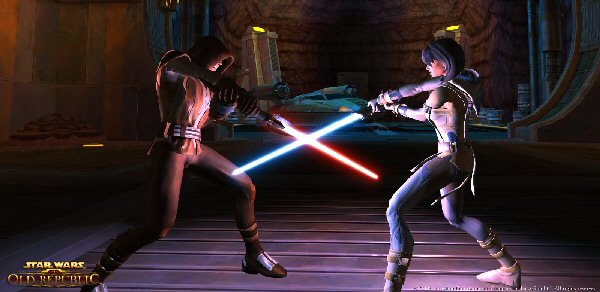 Other snippets of information given about the company's make or break MMO include claims that one million users log into the servers each day and stay in game for approximately four hours at a time. Riccitiello also revealed that 40 percent of the sales of SWTOR came through its digital distribution channel Origin, a service that EA is banking on to steal some of the market share from its main competitor, STEAM.

Despite initial complaints about server stability in the opening few weeks of launch, EA's CEO also claims that server performance has exceeded expectations, noting a 99.5 percent uptime. Subscribers can also look forward to a major update in March and a number of PvP upgrades and expansion packs that are in the works

EA's latest financial report, which revealed a better than expected performance in the third quarter with non-GAAP revenues of $1.65 billion, also detailed some facts and figures about the company's other major IPs. While Battlefield 3 and FIFA 12 each sold more than 10 million units, Madden NFL 12 has reached five million units sold in the period ending December 31, 2011.

The future isn't quite so bright. EA has forecast a drop in non-GAAP revenue for the next quarter, expecting it to fall in between $925 million and $975 million.

Full details of the financial report can be found here.