Electronic Arts has published its latest set of financials for its Q4 2018 accounting period. The period also rounds off its full year 2018 accounts. GamesIndustryBiz reports that EA can celebrate a record year and is forecasting another to follow. Another report on the earnings, from VentureBeat, highlighted news from the investor conference call in which the EA CEO admitted plans to continue loot box monetisation.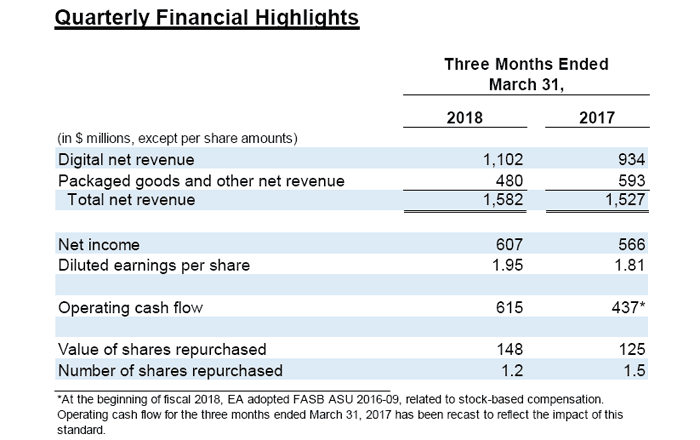 EA's Q4 revenues were up 3.6 per cent to $1.58 billion, and full year revenue was up 6.2 per cent to $5.15 billion - a record year for the company. Chief Executive Officer Andrew Wilson told investors that leading franchises like FIFA, Battlefield, and The Sims have been popularised with more players across more platforms and geographies. Digital sales are growing and more than making up for the decline of packaged games.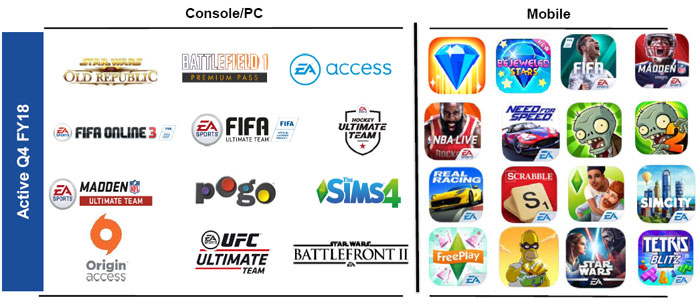 Selected Operating Highlights and Metrics
Digital net bookings was $3.538 billion for fiscal 2018, up 17% year-over-year and represents 68% of total net bookings.
The EA SPORTS franchises grew to nearly 90 million players on current generation consoles life to date.
Nearly 18 million players engaged in competitive gaming across FIFA 18 and Madden NFL 18, up more than 75% year-over-year.
The Battlefield community, across current generation consoles and PC HD, now has more than 54 million players life to date.
The Sims community had more than 80 million Sims players across PC and mobile in fiscal 2018.
Explaining the continued success of EA's games, COO and CFO Blake Jorgensen, said "Our success is driven by the way we have changed, and continue to change, our relationship with players. They want more depth in their favourite games, and fresh content that can hold their attention year round. This has made our business much more stable and enabled us to deliver a dependable and growing cash flow to investors."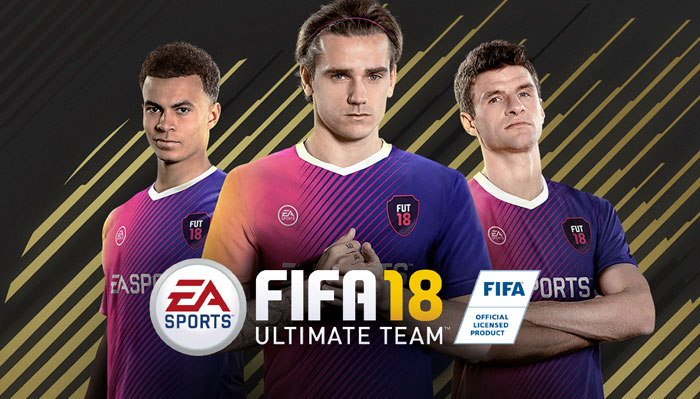 Recently EA was in the news as Belgium, and the Netherlands, have ruled that loot boxes in games are equivalent to gambling, and must be removed from this form of entertainment, especially as they are accessed by minors, young people and the vulnerable. Earlier last month EA claimed to have learned from its loot box mistakes in Star Wars Battlefront II.
Reading through the various reports of the conference call, what EA seems to have decided is that loot boxes aren't really suitable for monetising computer games, except for sports franchises. Sports and gambling have been bedfellows for a long time, for better or worse, and EA confirmed that it will be continue its 'loot box alike' Ultimate Team mode in games like FIFA, Madden NFL, NHL, and NBA Live on PC, consoles, and mobile. It might be no coincidence that these "are its biggest live-service money makers". These sporting 'loot boxes' take the form of random team player card packs. EA added that it was working with regulators worldwide to push the point that these card packs aren't gambling.
In other EA gaming news distilled from the recent results statements, EA has reconfirmed a new Battlefield game for Q3 this year, Bioware's Anthem has been confirmed for release within a year from now, and FIFA 19 information will be shared at EA Play in June.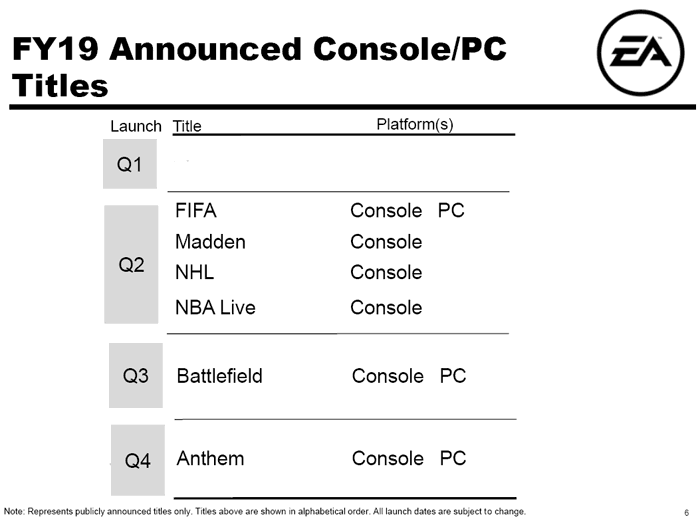 Interestingly, EA claims that the success of Battle Royale games like Fortniteand PUBG aren't eating into its sales. Rather, these titles have "helped grow the whole marketplace," asserts EA's Jorgensen. However, EA might be creating its own Battle Royale competitor via a similar game mode in the upcoming Battlefield V.