When Star Wars Battlefront II launched towards the latter half of last year it was grabbing headlines for all the wrong reasons. Rather than people talking about the improvements delivered beyond the first release, the bigger, more complex game, and the addition of a story mode – news was dominated by the "aggressive use of loot boxes and microtransactions, tied to a progression system that incentivized spending real money," notes The Verge. The same publication has recently shared an interesting interview with Patrick Söderlund, a long-time EA executive recently promoted to chief design officer.
"I'd be lying to you if I said that what's happened with Battlefront and what's happened with everything surrounding loot boxes and these things haven't had an effect on EA as a company and an effect on us as management," explained Söderlund. "We can shy away from it and pretend like it didn't happen, or we can act responsibly and realize that we made some mistakes, and try to rectify those mistakes and learn from them."
Further in the chat Söderlund suggests that EA's intent with the loot boxes was to "have more people play it over a longer period of time," but again he admits that EA simply "got it wrong". With the loot boxes and microtransactions gutted from Star Wars Battlefront II, it is claimed that people "appreciate what we've done, players are coming back, and we're seeing stronger engagement numbers". Obviously the big changes made by cutting out these in-game purchases were undesirable for EA, so it will be "very cautious" in future productions.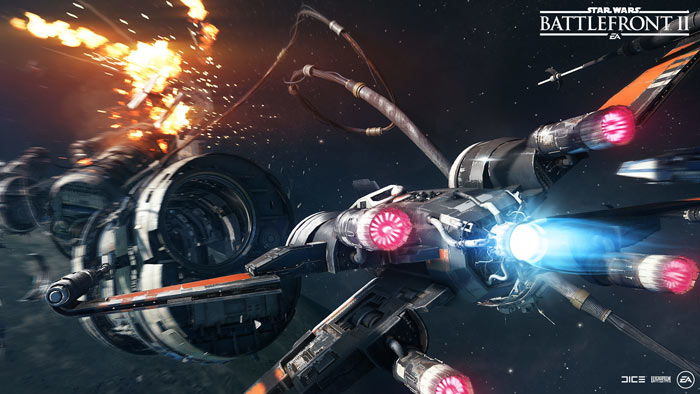 Other hit games leverage microtransactions solely for in-game cosmetic items (that don't provide gameplay advantages), and EA will apparently abide by this model going forward. Thus, Star Wars Battlefront II will again contain microtransactions from Wednesday, but only for cosmetic items.
Söderlund ends his Verge interview by asserting that EA is "serious about building the best possible products, that we're serious about treating the players fair, and we're here to make the best possible entertainment that we can". That is a worthy business model, if your games are up to scratch, but there is always commercial pressure to squeeze every extra penny from a product and microtransaction policies are unlikely to remain static forever.
It is easy to say the right thing in interviews, but ultimately EA will be judged by its actions in its upcoming game monetisation strategies.
Extra: Star Wars Battlefront II Night on Endor Update: Hunter meets hunted in the new limited-time mode Ewok Hunt – launches on 18th April. See the trailer embedded below.