EA's Need for Speed: Payback racing game is due for release in November. As usual, you might expect to have some pre-order bonus content on offer, to incentivise putting down your cash ahead of any third party reviews of this game. However, EA seems to be pushing the envelope about what kinds of extras are acceptable to include in pre-orders, and their exclusivity.
The particularly controversial incentive that EA is offering with pre-orders of one edition of Need for Speed: Payback is an offer of "Exclusive Tire Smoke". TechPowerUp spotted that in a listing for this game on Electronics Boutique Australia, where pre-purchasers of this AU$99 title qualify for this graphical effect exclusive.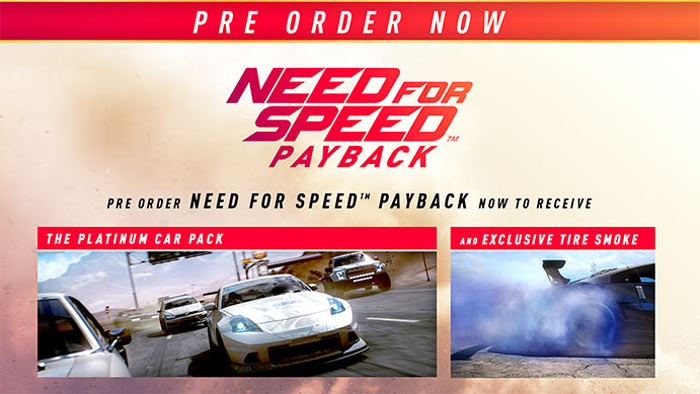 The Platinum edition on PS4, in the example, qualifies for an exclusive car pack, which is the kind of incentive one might expect. However the blue tire smoke is "exclusive to Platinum Car Pack vehicles". If the regular game doesn't include any tire smoke, yet this platinum edition pre-order does, that will leave many a gamer feeling rather miffed. What next, we might ask: pre-order exclusive flames, character faces, muzzle flashes, explosions etc - depending upon game genre the list of graphical effects is endless.
Hopefully, the exclusivity will just be centred on the tire smoke blue colour, reading between the lines on the EB Australia product page. In other editions of the new Need for Speed: Payback everyone should get grey tire smoke, at least, one might think.
EA has a history of pushing extras via DLC and micropayments a little too far for the comfort of many gamers (and the ASA), but it makes billions from such activity. On the other hand it gives away some excellent older titles On the House, and if you buy slightly older EA games the various historic add-ons and DLCs are often bundled in.