The tiny BBC micro:bit computer board has gone up for public pre-orders. The device was originally designed for educational purposes and is currently being distributed to around a million Year-7 school children across the UK (750K delivered so far). Delivery of the first computer boards to the public will commence in July and prices start from just £12.99. Alternatively you can get it in a kit with the necessary USB cable, battery holder, and 2x AAA batteries along with a Quick Start Guide for £14.99, as pictured below.

Leeds-based company, element 14, the manufacturer of the device, will only sell micro:bit devices and kits in batches of 90 but lists several reseller partners where you can order single units. There are currently four SKUs including a bulk box of (300) micro:bits, the micro:bit go starter pack (pictured above), and the micro:bit club multi-pack (10 units) with accessories.
As mentioned in the intro, the BBC micro:bit was purposed for education. It aims to help young people "get creative, get connected, get coding". There is a microsite dedicated to projects powered by the micro:bit and plenty of tutorials to get users up and running in areas as varied as games, IoT, and music.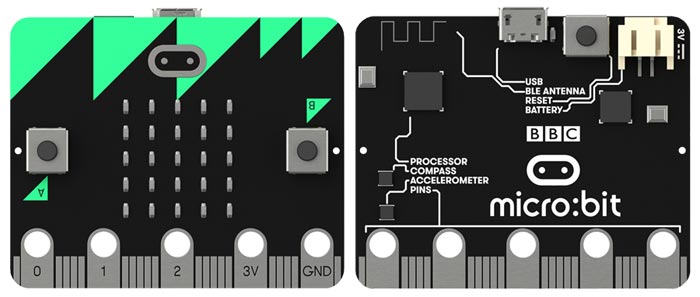 The finalised BBC micro:bit design was revealed nearly a year ago, and to recap below are the key specs:
ARM Cortex M-O processor
Five Input and Output (I/O) rings
Two buttons for interactivity
25 red LED indicator lights in a 5x5 matrix
Bluetooth LE antenna
Compass, magnetometer, accelerometer
USB transfer/power port, plus battery port to connect two AAA batteries
Measures 4cm x 5cm (about half the size of a credit card)
The value of the micro:bit stems from the programmable compact hardware featuring an array of LEDs and sensors plus further extensibility via its I/O rings. Another quality of the micro:bit is, of course, the software support from the helpful educational community and coding ability direct from Microsoft's special developer website.
For project inspiration, a couple of months ago the BBC published an article discussing "seven outstanding Micro Bit projects". It will be interesting to see if the opening up of availability of the device leads to it becoming as popular in the maker community as devices such as the Raspberry Pi.