UK communications regulator Ofcom has dropped HEXUS a couple of interesting news releases today, First of all it told us that streaming services have overtaken pay TV here in the UK for the first time. Then, a second bulletin arrived to share the latest stats with regard to pay TV and telecoms complaints, as Ofcom shared new league tables.
Streaming services soar
In its Media Nations 2018 report, published today, Ofcom says that the rise of online video is changing the picture for the TV industry. Of particular note is the fact that for the first time streaming has overtaken established pay TV. The total number of UK subscriptions to the three most popular online streaming services – Netflix, Amazon Prime and Sky's Now TV – reached 15.4 million in Q1 2018. That's greater than the 15.1 million tally of broadcast pay TV subscribers.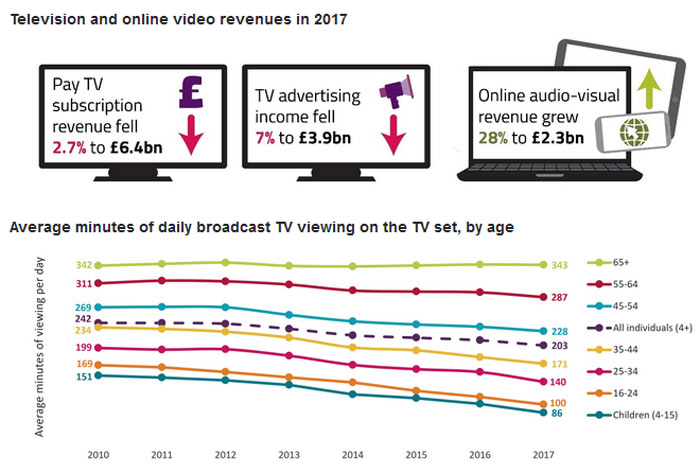 In another blow to the pay TV industry, its revenue has declined for the first time. Subscription revenue generation was down 2.7 per cent last year to £6.4bn. In a related development television advertising income fell by 7 per cent, to £3.9bn. In contrast streaming revenues were up 28 per cent to 2.3bn in 2017.
Public service broadcasters aren't supporting the traditional broadcast team very whole heartedly, as the BBC, ITV Channel 4 and Channel 5's £2.5bn combined network spending on original UK-made programmes in 2017 represented a record low – and was £1bn (28 per cent) less than the 2004 peak of £3.4bn. People are watching PSB less, with the latest average viewing time of 3 hours 22 minutes a day down 4.2 per cent on 2016 figures, or down 15.7 per cent on 2012 figures. For younger people those declines were dramatically steeper.
Complaints data
Ofcom has just shared its complaints data for pay TV and telecoms, Q1 2018. Helpfully it provides an analysis, PDF, Excel spreadsheet and interactive chart for your perusal. Respective headlines from the two segments under the spotlight are as follows:
Sky is the least complained-about broadband, landline and pay-TV provider
Tesco Mobile attracts the fewest complaints for pay-monthly mobile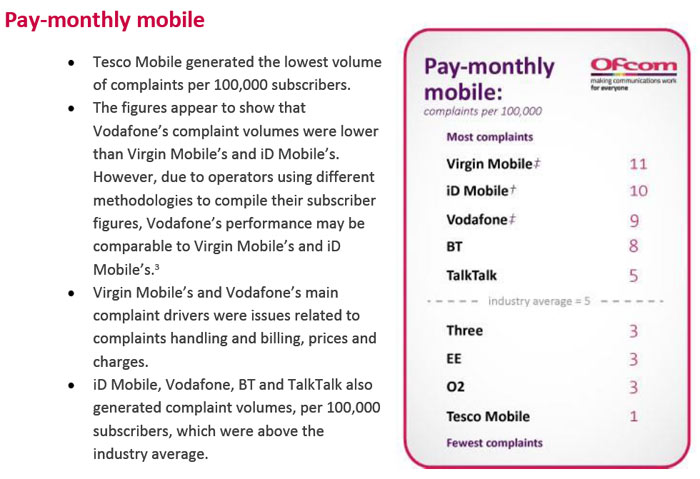 In the latest quarter there were fewer overall complaints about broadband and landline services but mobile and pay TV complaints stayed the same. For the first time iD mobile is included in the data as it now has a stable >1.5 per cent market share. Ofcom receives nearly 300 complaints a day from consumers.