Today Samsung has detailed the technology behind the Galaxy S7 and S7 Edge's main cameras. We already knew that the latest main camera units in the S7 models were powered by dual pixel sensors, sported larger pixels, and were paired with an even wider aperture lens than ever before. This and other aspects of the S7 cameras were talked about at the Galaxy S7/S7 Edge smartphone launch event last month. Now Samsung has gone into more technical detail about the advanced semiconductor technology it has used.
Dual pixel sensors were previously reserved for DSLR cameras, says Samsung. This kind of sensor, and thus the one in the S7, uses two photodiodes located on the left and right halves of each pixel. The result is "significantly faster auto-focus" as each and every pixel of the Dual Pixel image sensor is capable of detecting phase differences of perceived light (sometimes referred to as phase detection auto-focus or PDAF). The positive results are even more apparent in dimly lit scenes and/or with moving objects says Samsung.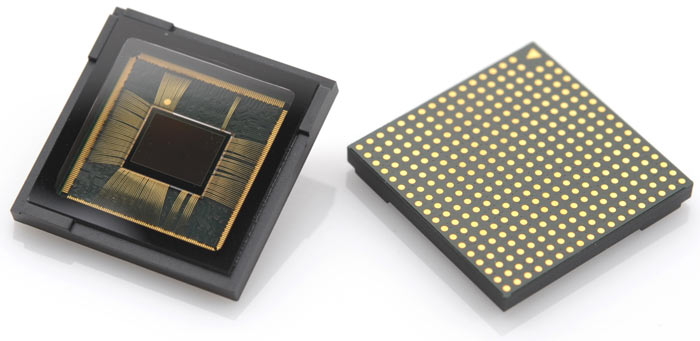 Samsung's new sensor offers 12 megapixels and each pixel is 1.4μm in size. Furthermore Samsung ISOCELL technology is employed to reduce colour cross talk between neighbouring pixels. ISOCELL physically isolates photodiodes in each pixel and helps the image sensor perform more accurately.
Finally Samsung provides some background information concerning the camera sensor manufacture. We are told that the new image sensor is built with cutting-edge chip-stacking technology. A 65nm sensor and a 28nm logic chip are combined to deliver the complete sensor unit.
Samsung is second place in the image sensor market to Sony. The Samsung Galaxy S7 and S7 Edge are set to become available globally from Friday 11th March. It will be interesting to see what third party manufacturers decide to make smartphones with Samsung's latest Dual Pixel sensor.
Samsung Galaxy S7 teardown published
For those particularly interested in Samsung's latest Android smartphone the teardown recently published by iFixit might appeal. As usual the guys provide a thorough rundown of the innards of the device, mercilessly taken apart with all gluey stuff cast asunder. Venture over here if such a dissection might appeal to you.