Nikon have released the Coolpix S800c compact digital camera. This is the first mainstream digicam to run on Google's Android OS. Nikon say that this new Coolpix "loves your social life as much as you do" and accompanying the excellent picture quality you can simply "Tap the screen to share online, and get instant comments from your friends."
Getting right to the point and attempting to counterattack the camera equipped smartphone market Nikons describes the Coolpix S800c as follows; "Enjoy high quality images that you simply cannot get with smartphones, plus wireless communication that is impossible with regular digital still cameras"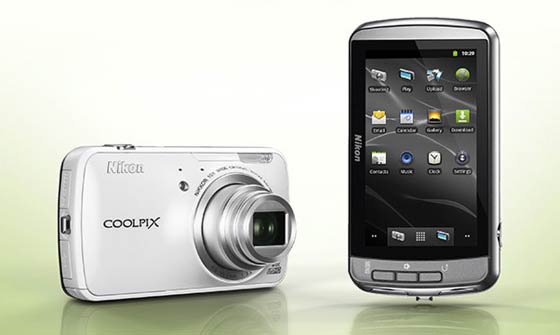 Let's look at the key camera hardware specs:
Image sensor: 1/2.3-inch, back-illuminated CMOS; total pixels: approx. 16.79 million
Lens: 10x optical zoom, NIKKOR lens
Focal length: 4.5-45.0 mm (angle of view equivalent to that of 25-250 mm lens in 35 mm [135] format)
Focus range: [W]: Approx. 50 cm (1 ft 8 in.) to infinity, [T]: Approx. 1.0m (3 ft 4 in.) to infinity; Macro mode: Approx. 10 cm (4 in.) to infinity
f/-number: f/3.2-5.8
Vibration reduction: Lens shift
Monitor: 8.7 cm (3.5-in.), widescreen, OLED monitor (touch panel) with anti-reflection coating, approx. 819k-dot, 5-level brightness adjustment
Storage: Internal memory, spaces available for saving images: approx. 1.7 GB, Spaces available for saving applications: approx. 680 MB (varying depending on the country or region), SD/SDHC memory card expandable data storage
File formats: Still pictures: JPEG, Movies: MOV (video: H.264/MPEG-4 AVC, audio: AAC stereo), 16M image size is 4608 x 3456 pixels. HD 1080p movie capability at 30fps
Shutter speed: 1/2000-1 s, 1/4000 s (maximum speed during high-speed continuous shooting), 4 s (Fireworks show scene mode)
HDMI output: Can be selected from Auto, 480p, 720p, and 1080i
Backlighting HDR: delivers detailed images of high-contrast scenes
Easy Panorama 360°/180°: move the camera vertically or horizontally to create dynamic panoramas.
Continuous mode (8.1 fps): capture sharp shots of the action at a fast eight frames-per-second.
Communications: IEEE 802.11b/g/n, Bluetooth 2.1, GPS receiver
CPU: ARM Cortex A9
RAM: 512MB
Android OS: Version 2.3 Gingerbread
Battery life: Approx 140 stills using standard EN-EL12 battery
Weight: 184g
Dimensions: 111.4 x 60.0 x 27.2 mm
Compact camera demand has waned as smartphones featuring more and more capable cameras have become increasingly popular. Nikon actually compares the new Coolpix S800c to a smartphone saying "Just like a smartphone or tablet device, the camera has the opportunity to run camera-specific photo and video applications, yet enables the various benefits of shooting with a camera."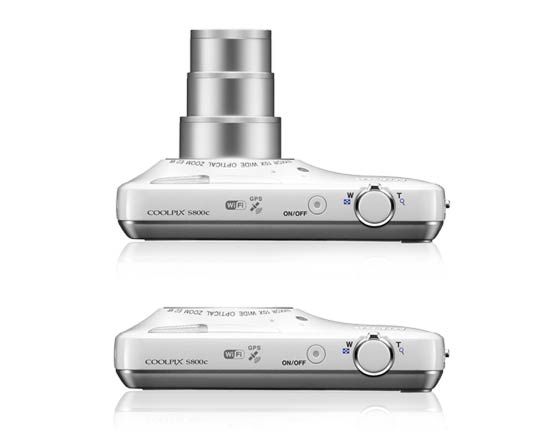 Competitors
The Polaroid SC1630 Smart Camera, also powered by Android, shown at CES back in January doesn't appear to have shown up at retailers yet. First impressions of that device said it felt like an older model point and shoot. Also some concern was expressed by the slow start-up time of the device. The Polaroid also uses a 16MP sensor but the 3X optical zoom range is small in comparison to the Nikon S800c 10X zoom.
Looking at convergence from the other side of the equation we have the Nokia 808 PureView available now with a camera that according to quality tests really does rival a good compact digicam. Also yesterday we got everything except written, signed and witnessed confirmation that a Nokia PureView Lumia Windows Phone 8 smartphone is about to be unveiled in early September.
The Nikon Coolpix has an RRP of $350 (£220) which is a pretty decent suggested retail price for a new "travel zoom" compact with so many features. As with all cameras we need to see photographic samples before making any comment on the quality of the Coolpix S800c model.