While the iPhone 4 is now the most popular device used for uploading photos to Flickr, sales of actual dedicated cameras have refused to follow MP3 players down the pan. Japanese camera exports are currently three times in number compared to 2003 data. Meanwhile the world's biggest camera company, Canon, has increased its profit forecast for 2012 by 16 per cent.
Prof. Prashant Malaviya at Georgetown University observes "For several years, it has been predicted that smartphone adoption would cut into digital camera sales, in fact, the exact opposite has happened." It seems that people aren't confident with their smartphone's capability when taking photos of what could be precious memories and events. Casual snaps are OK on your phone but a lot of the compositional features, even on modestly prices cameras, are not found on even the most expensive smartphones. Higher end compacts, compact system cameras (with interchangeable lenses) and SLRs are all experiencing strong growth. In some ways photography on phones is turning people onto more advanced photography to get better results with more professional equipment. For quality pictures consumers still respect the traditional brands like Canon, Nikon, Olympus and Pentax.
Canon's latest results, its highest profit forecast for 4 years, should give it an operating profit of 450 billion yen (£3.4 billion). The company expects to sell 22 million compacts and over 9 million SLR models this year. Meanwhile sales by the office equipment division (printers etc) have actually fallen by 16 per cent, though it's still a profitable enterprise making 52 billion yen in the first quarter. The office division is feeling more of the impact of the global recession.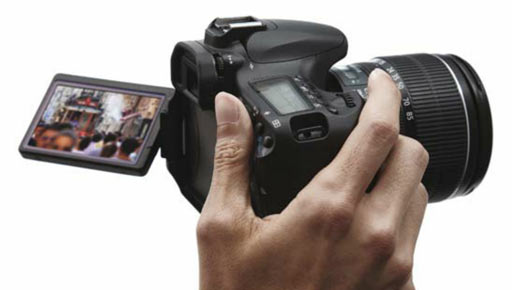 The extra profit announced by Canon wasn't all due to the demand for its cameras. Canon get 80 per cent of their income from exports and the Bank of Japan monetary stimulus has reduced the value of the Yen. Canon's CFO, Toshizo Tanaka explained "Most of the 150 billion addition to sales and 70 billion increase in the operating profit forecast came from the 5 yen weaker yen-dollar rate."
Other gadgetry areas the smartphone have touched upon have crumbled against the momentum and capability of these mini computers in our pockets. PDAs are now passé, portable music and video players, portable games consoles, pocket calculators and watches have all been hit by phones being able to cover their functionality and being kept on our person, rather than being left at home in a drawer. When feature phones arrived with 'quite good' cameras we all assumed that it was the start of something approaching the end of the compact camera. In the future smartphones should be able to take away more of the camera market, they just aren't there yet. I thought Sony's CyberShot camera phones were good feature phones at the time, perhaps Sony hasn't advanced this aspect recently to preserve their own compact camera business?