A Nokia Lumia smartphone powered by Windows Phone 8 and packing a PureView 41-megapixel sensor could be on the cards for the Nokia and Microsoft Windows Phone Event on 5th September. In July Nokia developer relations VP, Richard Kerris, said a PureView Lumia would be coming "very soon". Yesterday the company, via the official Nokia Twitter account, indicated a Lumia PureView device would be revealed in the "coming weeks".
In response to a fan on the official Nokia page requesting "I hope the PureView is in the next Lumia" Nokia answered "Just keep your eyes and ears open in the next coming weeks…"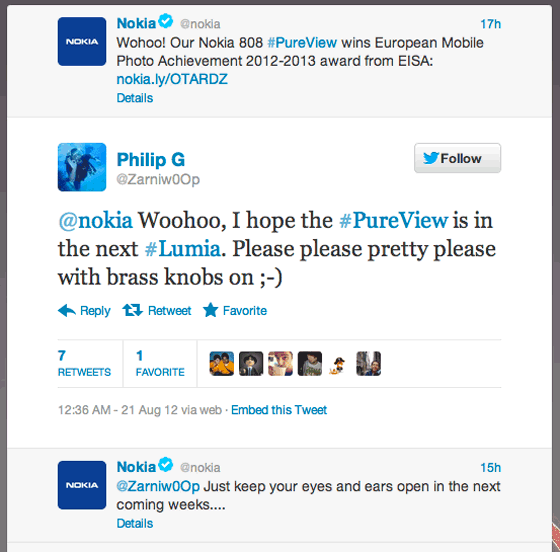 The PureView camera component is currently only available in a smartphone called the Nokia 808 PureView which is powered by the declining Symbian OS yet still retails for over £400 in the UK. A combination of price and end of life platform has no doubt throttled sales of this mobile feature smartphone. The combination of a new up-and-coming smartphone OS in Windows Phone 8, the PureView camera and new desirable cutting-edge powerful smartphone hardware will hopefully help remove Nokia from the financial hole it is currently in.
In quality tests against various other smartphones and dedicated compact cameras the PureView camera component has been shown to be a winner and for the foreseeable future could offer Nokia a great unique selling point (USP) with which to outflank the competition. Shortly prior to the smartphone boom feature phones roamed the earth battling each other with megapixel counts, lens and flash specifications. Cameras on phones are very popular and again could help Nokia stand out from the crowd if it offers the best quality convergence devices.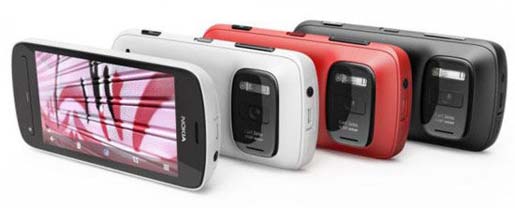 The current Nokia 808 PureView smartphone
The big question for me is how much more expensive will a PureView Lumia device be? Also has Nokia managed to slim the imaging component down a bit so it's not so bulbous?