Performance and rating
Knowing that the USB 3.0 interface has a real-world bandwidth ceiling of around 400MB/s under ideal conditions, the limiting factor, in terms of raw speed, is going to be the 2TB mechanical drive. To give you a comparison against something speedier and more expensive, we've included an Intel Series 510 120GB SSD housed in a Tsunami D-25 USB 3.0 enclosure, and the comparative numbers will tell you just how a super-sized spindle-based drive stacks up.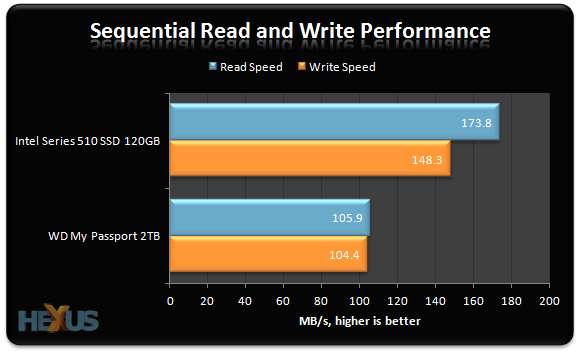 The reported sequential read and write numbers are obtained by running AS SSD. Encouragingly, the My Passport's significant areal density provides sustained numbers of over 100MB/s in both instances.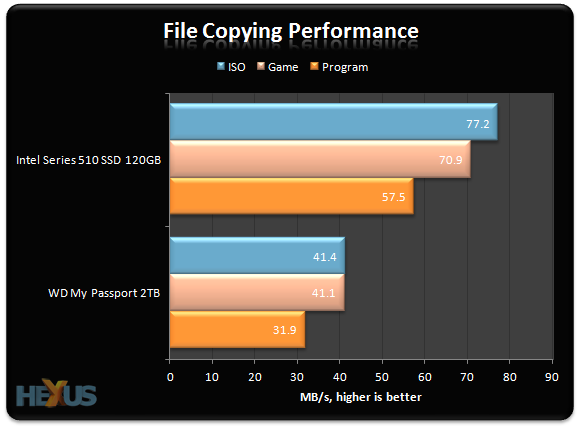 The same benchmark has a file-copy test that evaluates transfer performance for scenarios where different-sized files are considered. 41MB/s, while not earth-shattering, is still higher than the bandwidth limit imposed by a USB 2.0 connection.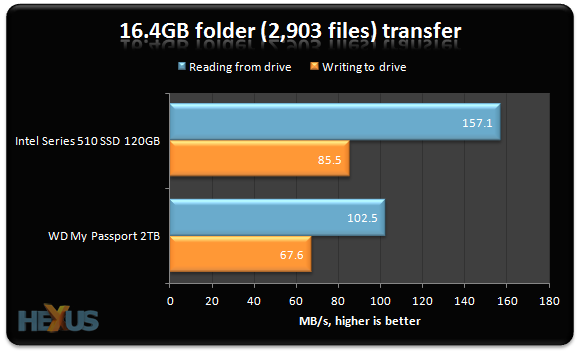 The final test moves our Batman: Arkham City folder to-and-from the portable storage. The host drive, containing the operating system, is a Corsair V128 SSD. Higher numbers are posted when data is read from the portable-storage device and back on to the host SSD. Putting a different spin on things, it takes under three minutes to move 16.4GB from the My Passport to the boot SSD, which is certainly handy when, like us, you're constantly shuffling data around.
Final thoughts
Packing up to 2TB of storage capacity into a portable-storage drive that fits inside a coat pocket, Western Digital's bus-powered My Passport is useful for folk who need relatively speedy access - up to 100MB/s sequential read and write - to large files yet don't want to be encumbered with additional power cables. Wrapped in a solid body and shipped with decent security and general management software, its sheer capacity is the main selling point.
Quiet, cool and absolutely straightforward to use, we can recommend the £170 Western Digital My Passport 2TB to users whose need for a high-capacity portable drive is paramount.
The Good
Huge capacity for a portable-storage drive
Well-built
Can average over 100MB/s for both read and write operations
Solid supporting software
The Bad
Not the thinnest or lightest
HEXUS Rating

Western Digital My Passport 2TB
HEXUS Awards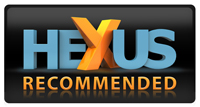 Western Digital My Passport 2TB
HEXUS Where2Buy
The reviewed drive is available here.
HEXUS Right2Reply
At HEXUS, we invite the companies whose products we test to comment on our articles. If any company representatives for the products reviewed choose to respond, we'll publish their commentary here verbatim.