The drive
Ever-tumbling prices of solid-state disks (SSDs) make them tasty propositions for users looking to speed up their systems by installing an SSD as a boot drive. The 2.5in form factor of most consumer SSDs also make them eminently suitable for portable-storage purposes, given the innate shockproof nature of drives and general availability of cheap USB 3.0 enclosures. Go down the do-it-yourself route and a decent 128GB SSD can be allied to a USB 3.0 enclosure for under £100.
But there's a well-established market for portable storage that makes use of mechanical hard-drives. These, as you know, provide significantly more capacity-per-pound than even price-ravaged SSDs, meaning a 1 terabyte (TB), 2.5in, USB 3.0-connected model is available for comfortably below £100. Sure, you'll lose some top-end speed, but, for most, that's more than compensated by capacity that's an order of magnitude higher.
Western Digital currently sells five portable hard-drive solutions, of which three have the modern, fast USB 3.0 connection on the front. Capacities of up to 1TB are available in the Passport Essential and Elements Portable lines, but if you really want to go big and max out capacity, the regular Passport range has a 2TB option, currently priced at £170.
While the rest of the Passport range is available in a range of colours, the 2TB-enclosing case follows Henry Ford's thinking; you can only have it in black. The range provides four different capacities: 500GB; 750GB; 1TB; and 2TB. All four share the same chassis length (111mm) and width (82mm) but differ with respect to height (15mm to 21mm), depending on the thickness of the drive inside. The 2TB drive's chassis is well-built and nice to handle, with a dotted top section that provides a little grip. To the left of the micro-USB 3.0 port is a very conspicuous white LED that denotes drive access. Weighing in at 230g and standing 22mm tall, the My Passport 2TB feels reassuringly solid.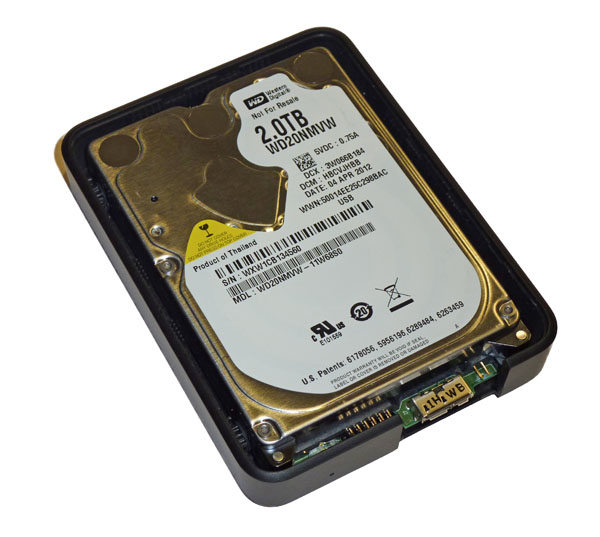 The quality of the casing is such that it feels like a one-piece device. However, spend some time teasing out the edges and the thinner top section comes away with a few protestations. Inside, a WD20NMVW is custom-made for this model. Spinning at 5,400rpm and with the USB 3.0 controller and port integrated into the same printed circuit board, it cannot be removed and separately used in a notebook or desktop computer.
Western Digital bundles a 45cm USB 3.0 cable and rudimentary instructions. There's no need for an external power adapter - one of the beauties of 2.5in-based storage - as the cable can pull enough juice from the host PC to fully power the drive, which is rated at a maximum 3.75W.
Software
There's no operational reason to bundle any software with the My Passport; it's very much plug-and-play on modern Windows and Mac operating systems. Adding more value, WD includes a bunch of utilities on the drive itself, which can be loaded on to the host computer, should you so wish.
Three sets of utilities provide diagnostic, security, and backup duties. Choose the SmartWare security option and a virtual CD is installed on the drive itself. Included within this VCD is Drive Unlocker, controlled by an optional password that can be entered on the first setup screen. The VCD hides the contents of the My Passport drive from the operating system, meaning that files can only be unlocked and viewed with the password, so don't forget it; WD cannot help if you do.
For those who simply want security when using the My Passport on other PCs, an auto-unlock feature, which is tied into the regular PC onto which the program is first installed, works well enough. We like this basic layer of security for portable storage.
The host drive's contents can be backed-up on either a file-per-file basis or by general category. Mind, the backup application doesn't do much that a simple drag-and-drop won't.