High-res impressions
And let's cut to the chase: if you're moving from, say, 1080p, the transition to 2160p can be astonishing. Everything looks so fantastically crisp and sharp, and going back to an ordinary monitor feels like a huge downgrade. The hike in pixels-per-inch is, in our estimation, one of the most rewarding PC upgrades available today, and it has tangible benefits.
Windows 8.1 is designed to work well at higher resolutions, and the software automatically scales the size of text and other items to ensure an optimal viewing experience. Desktop real estate seems to go from a few yards to complete acres, and being able to have multiple windows open at once is hugely advantageous in terms of productivity. The B2888UHSU is, for the most part, a lovely monitor to work on, though perhaps not best suited to professionals who rely on precise colour reproduction - in that regard, no amount of pixels will match the levels of accuracy available to more-advanced IPS displays.
There are concessions that have to be made, however this remains one of the best TN screens available and it's helped by the fact that Iiyama's out-the-box configuration is good. We've found other displays based on the same panel to have been too bright in their shipping state, but Iiyama's setup is more to our liking - we've felt little need to calibrate and, using the tricky touch-sensitive buttons, the OSD can be used to easily switch between a choice of i-style colour modes: standard, scenery, cinema, game or text.
Is the ProLite B2888UHSU a display that gamers should consider? Short answer yes, but the overall proposition isn't as clear-cut as that. What's certain is that games look absolutely incredible at 3,840x2,160. It is, we feel, the best visual upgrade to PC gaming in recent years and the level of detail is a feast for the eyes. Being able to deliver that goodness at a smooth 60Hz is another real advantage, though the benefit ultimately depends on where you're coming from - 60Hz should be enjoyable for most gamers, but for anyone accustomed to a 120Hz display, it'll inevitably feel like a downgrade.
And there's also a big question mark over in-game performance. Driving all those pixels requires some serious GPU horsepower, and as we've shown in recent graphics cards reviews, you'll probably need to spend big bucks on hardware if you want to maintain smooth framerates at 4K. A single Titan just might not cut it.
For users with the right accompanying hardware, the 4K ProLite can be a joy to game on - viewing angles or strict colour reproduction don't tend to matter in this scenario, and the size of the screen combined with the clarity of its image leaves you engrossed in digital environments. Yet, the pace at which 4K screens are developing suggests that something better is usually just around the corner, and for gamers at least, it might be worth holding fire to see what the Acer XB280HK has in store. Said monitor is due to launch next month priced at £500 and uses the same 28in, 4K TN panel, but throws Nvidia G-Sync technology into the mix for ultra-smooth gameplay.
Summary
Iiyama is the latest display manufacturer to enter the 28in 4K fray and does so with a highly-competent ProLite panel priced competitively at £440.
Employing the same underlying TN panel as many of its competitors, the B2888UHSU's strengths are an ultra-high resolution and upgraded scaler technology that supports 3,840x2,160 at 60Hz via DisplayPort 1.2. Allowing the monitor to present a single, large rendering surface to the host system takes away any need for software workarounds, and put simply, the monitor just works.
Iiyama's implementation includes a sturdy stand with height adjustment, tilt, swivel, and a VESA-compliant mount, and the panel's out-the-box calibration is better than expected. Fed up of waiting for IPS alternatives to come down in price? Then, all things considered, this is a 4K solution well suited to users in the market for a productive display that's also enjoyable to game on.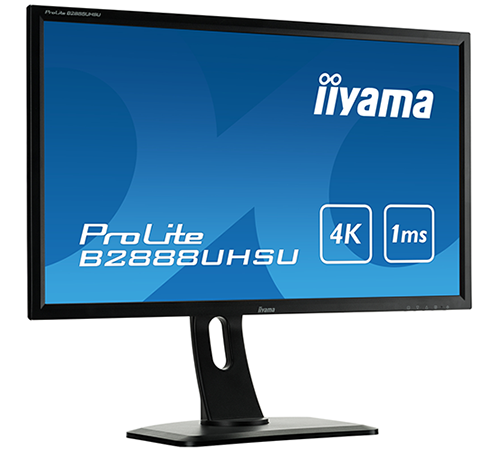 The Good
Super-high-resolution display
Does 4K at 60Hz via DisplayPort
Height-adjustable stand with swivel
Makes games look incredible
Competitive £440 price tag
The Bad
No portrait viewing mode
Viewing angles not a match for IPS
HEXUS.awards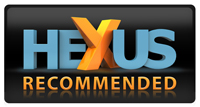 Iiyama ProLite B2888UHSU
HEXUS.where2buy
The Iiyama ProLite B2888UHSU 4K monitor is available to purchase from Scan Computers*.
HEXUS.right2reply
At HEXUS, we invite the companies whose products we test to comment on our articles. If any company representatives for the products reviewed choose to respond, we'll publish their commentary here verbatim.