Built For Performance
Performance is clearly the name of the game, and perusing the specification sheet suggests that neither air nor liquid-centric builders will be left wanting. The Arc Mini R2 has a total of seven fan mounts and ships with three fans as standard - a 120mm front intake, a 120mm rear exhaust and a 140mm top exhaust. All three can be hooked-up to the integrated fan controller, but the built-in hub doesn't have any room for expansion so any additional fans will need to be attached to motherboard headers.
Naturally, all these fan mounts hint at bountiful liquid-cooling opportunities. Despite being marketed as compact and minimalistic, this Mini monster can house, potentially, a thick 240mm radiator up front, a thick 240/360mm up top, a 120mm radiator at the bottom and a 120mm radiator at the rear. Granted, you'd have to lose the hard-disk cages in order to install the front rad, and it'd be bye-bye optical bays if you choose to put a 360mm rad up top, but it's still nice to have the option.
Don't worry too much about having to disregard the modular drive cages, either. They come out easily, making the internal area feel far more spacious, and you still have two dedicated 2.5in SSD mounts - they're tucked away neatly behind the motherboard tray and Fractal has revised the design so that drives can be added or removed after the motherboard is in place.
Elsewhere, we have 4+1 expansion slots, 165mm CPU cooler clearance, 260mm GPU clearance (or 400mm with the drive-cage removed) and a 20mm gap behind the motherboard tray for storing excess cables. Speaking of which, half-a-dozen cable-routing holes are made available, and they are all rubber-grommeted, which is nice.
Fractal has managed to cram almost every must-have feature we can think of - even the drive trays are made of metal, with rubber vibration dampeners for 3.5in drives and central mounts for 2.5in SSDs. There's a lot to appreciate in here, and the only real caveats are, firstly, the optical bays - they sadly aren't tool-free - and, secondly, the side panels, which use cumbersome notches as opposed to a user-friendly hinge.
Our mini-ITX test platform consists of an ASRock FM2A85X-ITX motherboard, an AMD A10-6700 APU, 16GB of Adata XPG DDR3 memory, a low-profile Noctua NH-L9a cooler, a Sapphire HD 7770 Vapor-X graphics card and a Corsair CX430 power supply. There were times during the build process that we wished the PSU was modular - the 20mm gap around back isn't particular roomy and a couple more cable tie-down points wouldn't have gone amiss - but on the whole we had no major difficulties building into the Arc Mini R2. The chassis' size is such that it makes light work of housing our mini-ITX rig.
If anything, Fractal's enclosure demands more. The Arc Mini R2 is ultimately overkill for our components, and really needs a micro-ATX board, a couple of graphics cards and at least a radiator or two in order to show what it's capable of. Needless to say, keeping our modest test system cool under load wasn't a problem, and thanks to the integrated fan controller, we were able to keep the system running quiet at all times.
Summary
Fractal has put forth a serious challenger to Corsair's Obsidian Series 350D in the high-performance micro-ATX stakes, but there is one rather strange hurdle that we've been saving 'till last. You see, the Arc Mini R2 appears to be offering a wealth of features for a reasonable £70 fee, but browsing the virtual shelves of certain UK retailers reveals that, for a pound less, you can bag the bigger Arc Midi R2. It might be a little larger, but it offers mini-ITX, micro-ATX and ATX support, has a lot of the same features, and is ultimately going to be deemed better value for money by most consumers.
We're all for downsizing, but we're not sure we'd want to pay similar money for what's essentially a slightly smaller version of the same case. Though the Arc Mini R2 is competitively priced against rival offerings, it's a tad too big to be considered a real space-saver and we reckon Fractal will need to shave off a further few pounds if it's to make the chassis stand out alongside the existing Arc Midi.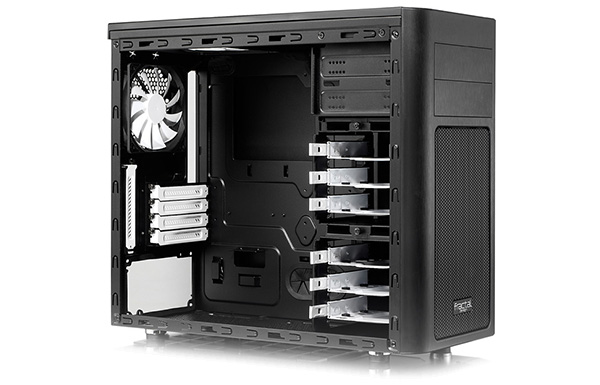 The Good
Bags of liquid-cooling potential
Ships with three pre-installed fans
Integrated multi-step fan controller
Roomy, well-laid-out interior
Rubber-grommeted cable holes
Dedicated rear 2.5in SSD mounts
Modular hard-disk cages
The Bad
Side panels are notched, not hinged
Doesn't conform to our idea of 'Mini'
No cheaper than the full-ATX version
HEXUS.where2buy
The Fractal Design Arc Mini R2 chassis is available to purchase from Scan Computers*.
HEXUS.right2reply
At HEXUS, we invite the companies whose products we test to comment on our articles. If any company representatives for the products reviewed choose to respond, we'll publish their commentary here verbatim.