There's plenty of potential for expansion, and we suspect future models will add the ability to hook-up fans and varying lengths of strip, but as it stands the HUE is straightforward and simple; it provides two metres of easily-controllable colour.
Getting the entire kit up and running takes a couple of minutes at most, and if you're partial to LEDs, the HUE is unlikely to disappoint. Our pictures show the kit running at maximum brightness, where the LEDs are strong but not overpowering.
There's enough light to nicely illuminate a chassis as large as the Graphite Series 600T, and being able to mix your own amount of red, green or blue provides a massive choice of colours. You needn't worry about power consumption, either, the LEDs are efficient and the entire HUE kit only added 2-3 Watts to our system-wide power draw.
The LEDs work well and we like the way in which NZXT has complemented the interior colour with two LEDs hidden inside the controller bay - they illuminate to match your interior tone. And, though you do have to sacrifice a 5.25in bay, the controller can be a very nice addition to a chassis.
Bottom line: It's the simplicity of NZXT's HUE that makes it attractive. Simple to install and intuitive to control, it makes light work of chassis illumination and costs only £25.
The Good
Really easy to install
Customisable LEDs
Tidy-looking controller
Multiple effects
Quick on/off toggle switch
The Bad
Takes up a 5.25in bay
LED strip size can't be adjusted
HEXUS Rating

NZXT HUE
HEXUS Awards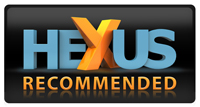 NZXT HUE
HEXUS Where2Buy
TBC.
HEXUS Right2Reply
At HEXUS, we invite the companies whose products we test to comment on our articles. If any company representatives for the products reviewed choose to respond, we'll publish their commentary here verbatim.