Final thoughts and rating
When optimised for near-silent operation, the Obsidian Series 550D does take a performance hit. The chassis' CPU and GPU cooling capability - at least in its out-the-box state - isn't up there with previous Corsair enclosures, but it's a sacrifice we're more than willing to accept.
While temperatures are nudged up slightly, they're still well within acceptable limits for everyday use, and noise levels drop dramatically. I've used a high-performance Graphite 600T for a good number of months, but let me put it in black and white; I'm moving to the Obsidian 550D at the nearest opportunity.
The chassis is an expensive proposition at around £110, and users who favour cooling above all else may want to look elsewhere, but if you're hoping to strike an optimum balance between performance and near-silent operation, the 550D is well worthy of consideration.
The chassis isn't perfect - the awkward-to-open front door being the main point of contention - and it isn't as good looking as, say, a Graphite 600T in white, but it's ultra-quiet in use, feels roomy throughout, has enough fan-mounts to turn into an airflow monster if needed, and above all, it's also a joy to work with.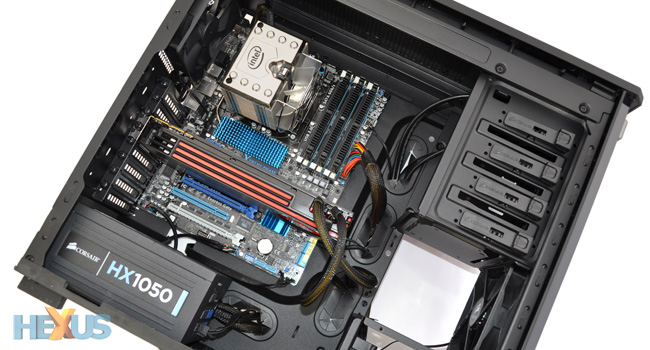 Bottom line: The 800D is more spacious, the 600T is better looking and the 300R is considerably cheaper, but the 550D is the one we'd want to live with on a day-to-day basis.
The Good
Can be extremely quiet in use
Sleek, minimalist design
Excellent to build into
Great cable-routing system
Good soundproofing throughout
Quick-release side panels
Plenty of dust filters
The Bad
Costly at over £100
Front door is stiff to open
HEXUS Rating

Corsair Obsidian Series 550D
HEXUS Awards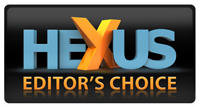 Corsair Obsidian Series 550D
HEXUS Where2Buy
The Corsair Obsidian Series 550D chassis is available to pre-order from scan.co.uk* with the first UK shipments expected to arrive in the next couple of weeks.
HEXUS Right2Reply
At HEXUS, we invite the companies whose products we test to comment on our articles. If any company representatives for the products reviewed choose to respond, we'll publish their commentary here verbatim.