Intel's Z97 chipset looms near and the race is on, as manufacturers are clambering to get boards ready for launch later this month. All the usual suspects are onboard, and Gigabyte as you might imagine has a complete roster of Z97 solutions, ranging from the Mini-ITX Z97N-Gaming 5 to the overclocker-orientated ATX Z97X-SOC Force.
The Taiwanese firm will, it seems, have a Z97 board for everyone, but it's the mid-to-high-end Z97X-UD5H that may be the most appealing to budding enthusiasts looking to put together a new Intel Haswell-based rig.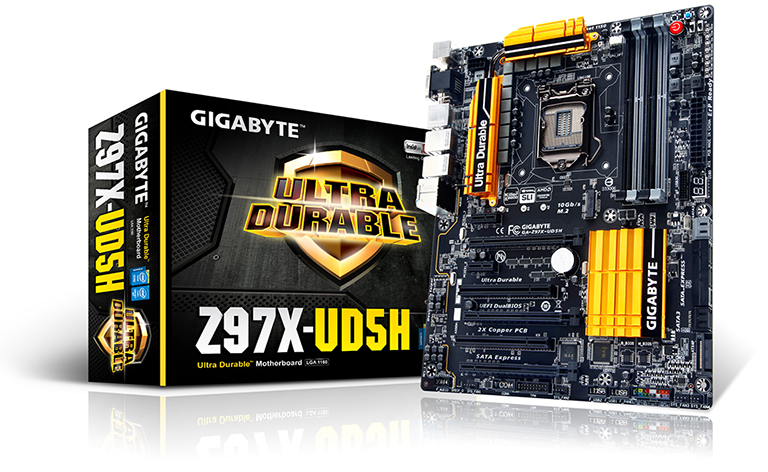 On course to be available at launch with an MSRP of £149 inc. VAT, the new board will be slightly cheaper than the current Z87X equivalent but will continue to offer a wealth of high-end features in an ATX form factor.
Gold seems to be the accent colour of choice for a fair few manufacturers, and Gigabyte has shifted away from the subtlety of its previous-generation board by garnishing the Z97X-UD5H with chunky heatsinks finished almost entirely in gold.
The press shots make the heatsinks look bright and almost yellow, but in the flesh the board isn't so ostentatious - the colour is darker and classier than it appears in the pictures. However, if gold-on-black just doesn't tickle your fancy, you'll be pleased to hear that a UD5H Black Edition that's finished almost entirely in black will also be made available.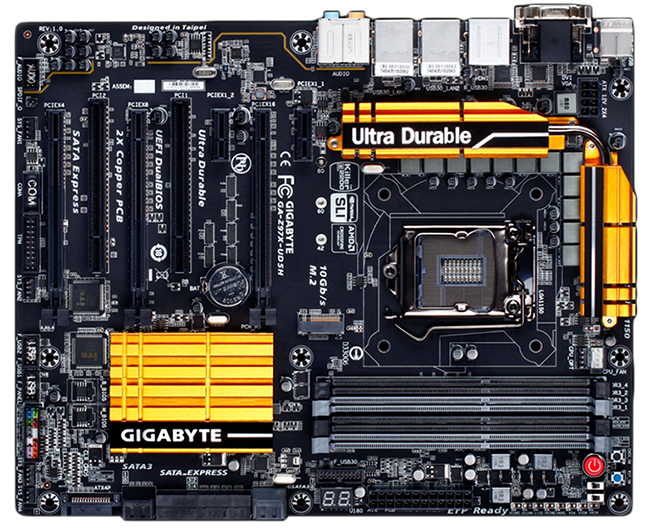 A quick look around the board confirms that overclocking is a key part of the UD5H's make-up. Gigabyte has employed a 12-phase digital power design that will help when LGA1150 CPUs are pushed, and various hardware assists are also visible. These include a DualBIOS switch, an onboard power button, a dedicated debug LED, voltage read points, Clear CMOS and Reset buttons, as well as an OC-PEG auxiliary power connector that claims to deliver "more stable" PCIe power when multiple graphics cards are installed.
Speaking of which, CrossFire and SLI support is included right out of the box, with a trio of well-spaced PCIe x16 slots offering a choice of x16 / x8, x8 / x8, x4, x4 configurations. A further four slots - two PCIe and two PCI - are also available, though the usefulness of these has diminished on modern-day builds.
How is any of this different to what's already available on Z87? That's a good question, and the answer is that many of the chipset's new features are tied to latest-generation storage technologies. Taking full advantage, the UD5H board has an M.2 storage connector capable of 10Gb/s transfer speeds positioned right in the centre below the CPU socket. This seems to be a preferred location by most vendors, and it's an area in which there's room to fit a choice of type 2242, 2260 and 2280 M.2 form factors.
Building on the board's storage potential, Gigabyte offers eight side-mounted SATA 6Gbps connectors, two of which can combine to power a single SATA Express drive. High-speed storage is well accounted for, though do be aware of chipset limitations: a lack of available PCIe lanes means that SATA Express and M.2 can't be used concurrently.
Elsewhere, we have dual Gigabit Ethernet powered by the Intel chipset and an added Killer E2200 from Qualcomm, a Realtek ALC1150 audio codec outfitted with Audio Noise Guard PCB separation, and a total of six fan headers. Two of these are positioned near the LGA1150 socket to support heatsinks or liquid coolers, while the remaining four line the board's bottom edge.
On the I/O front, Gigabyte has been able to squeeze in two USB 2.0 ports, six USB 3.0 ports, Dual LAN, analogue and optical audio outputs, as well as DVI-D, HDMI and VGA. 4K resolutions are supported via HDMI 1.4a, however the lack of DisplayPort is a strange omission and as is the case with a great many PC boards, there's no love for Intel's Thunderbolt.
There's still plenty for enthusiasts to work with, and Gigabyte is relying primarily on its overclocker-friendly features to justify the price premium over lesser Z97 boards. That's all for now, but stay tuned, we'll be taking a closer look at performance, as well as Gigabyte's refreshed UEFI BIOS, in a full review that will be made available at launch.