A week ago it was reported that China had gained a very firm grasp of the title of the world's fastest supercomputer. The Sunway TaihuLight, was in clear pole position in the new TOP500 list, offering 93 petaflops of performance, almost three times the performance of the second placed machine (the previous champ called the Tianhe-2). Now we have learned of a supercomputer in the making that will provide 200 petaflops of computing power.
While the Chinese Sunway TaihuLight achieved its remarkable number one position using home grown Sunway SW26010 260C 1.45GHz processors using an unknown architecture, the new US-based supercomputer will use a combination of IBM Power9 CPUs and Nvidia Volta GPUs.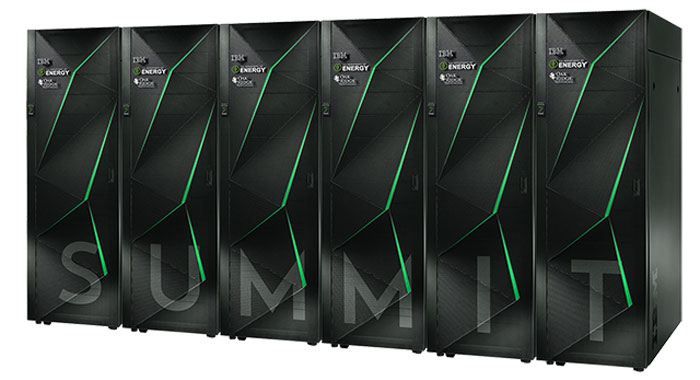 The U.S. Dept. of Energy's (DOE) Oak Ridge Summit will deliver over five times the performance of the current Oak Ridge labs supercomputer, the Titan (current #3 in the TOP500). This leadership-class computing system is scheduled for powering up for the first time in early 2018. Summit will have a hybrid architecture. The dedicated Summit page on the US govt website says that "each node will contain multiple IBM Power9 CPUs and Nvidia Volta GPUs all connected together with Nvidia's high-speed NVLink." Add to this each node having over 512GB of HBM and DDR4 memory addressable by all the processors plus a buffer of 800GB of NVRAM and you have a superbly potent system.
Summit has been designed to "open a door to new ways to simulate and explore complex systems in the natural world". Scientists using Summit will be able to make their calculations faster and/or more accurate and complex. It is hoped the new power available will provide solutions beyond the current experimental scope of supercomputers.
You might have heard of Summit before as it was first announced back in 2014. However since that time its specifications have been revised, and the expected performance has risen from 150 to 200 petaflops or more.
Below you can see a comparison of Oak Ridge's Titan and Summit supercomputer systems.