PC components and SFF PC specialist ZOTAC has designed a portable PC system which fits in a backpack. It thinks that the system could provide an untethered premium PC VR experience – making the most of the otherworldly immersive possibilities.
The ZBOX Mini PC Powered Portable Backpack was announced by ZOTAC last week and we were provided with a demonstration video, as embedded below. However, we haven't been provided with full specifications of this untethered VR system.
Being a VR-ready system we expect the key performance components to include at least a quad-core Intel Skylake CPU and a graphics card such as an Nvidia GTX 970. Many ZOTAC SFF PCs for gaming feature such components.
ZOTAC trumpets the benefits of cutting the computer 'umbilical cord' when entering the VR universe and says that its ZBOX system is the first to allow you to practically do so. The official press release states that "This mobile solution not only removes the bulk of connecting to the large traditional computer towers of old, but also allows the user to roam freely in VR with their undivided attention. This innovative solution includes a system powerful enough to drive VR, and a portable battery pack to keep you going."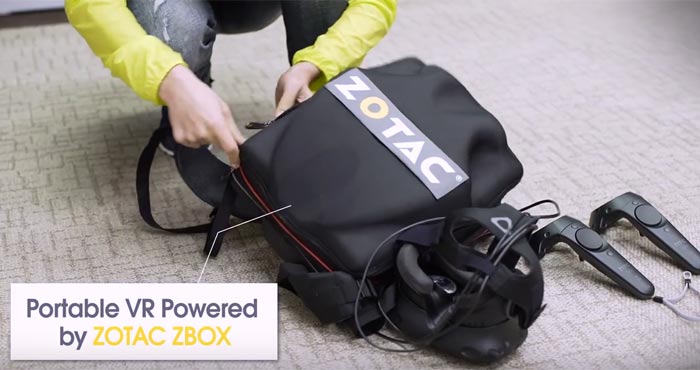 It would have been interesting to see some of the system spec options and learn about the battery capacity and typical untethered life. I'll be watching out for further details of this portable VR system in the coming weeks / months.