Introduction
Who doesn't love the idea of a powerful mini PC? A petite box, sat on the desk alongside the monitor, delivering multi-core performance, high-framerate gaming, versatile connectivity, and all while making next to no noise. We don't ask for much, do we?
Corsair's premium line of One PCs have come closest to delivering on all fronts, but there are other players with experience in the field. Zotac has been churning out mini PCs for as long as we can remember, and the firm's Zbox Magnus One promises plenty, with the manufacturer claiming it has "the do-it-all capability to deliver the best experience for daily tasks, gaming, entertainment, content creation and business."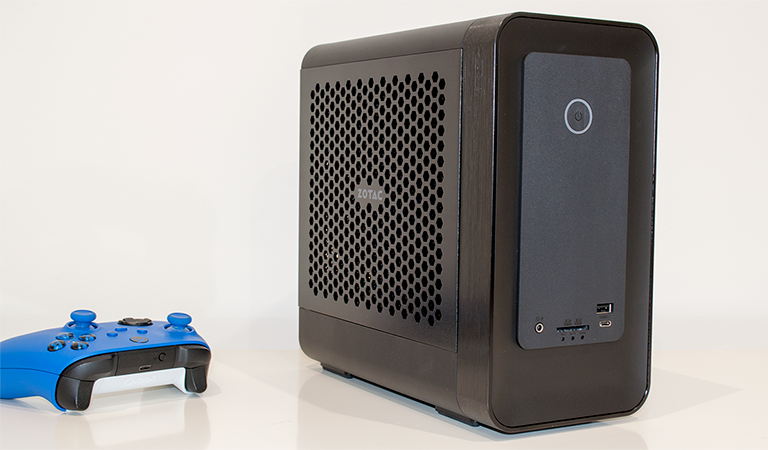 You wouldn't know it by looking at the box itself. The diminutive 266mm x 249mm x 126mm frame provides just an 8.3-litre capacity, and from the outside the black chassis looks positively staid by today's standards. There's no fancy lighting, various seams confirm the box isn't hewn from a single block of metal, and if you're nitpicking, the varying panels are subtly different shades of black.
These are minor niggles, mind, as the small size gives the PC a cute look and feel. It sits nicely on the desk, planted firmly with four rubber feet, and doesn't attract attention, which in our estimation is a good thing for a system that's likely to be within your eye line at all times.
Our review unit, model ECM73070C, is priced at £1,499 for a barebone configuration. That means you'll need to supply your own storage drive, memory and operating system. So, what do you get in the out-the-box state? Well, considering the size of the system, a fair amount of capable hardware. Zotac's CPU of choice is a 10th Gen Intel Core i7-10700 sat atop a custom motherboard based on the H470 chipset.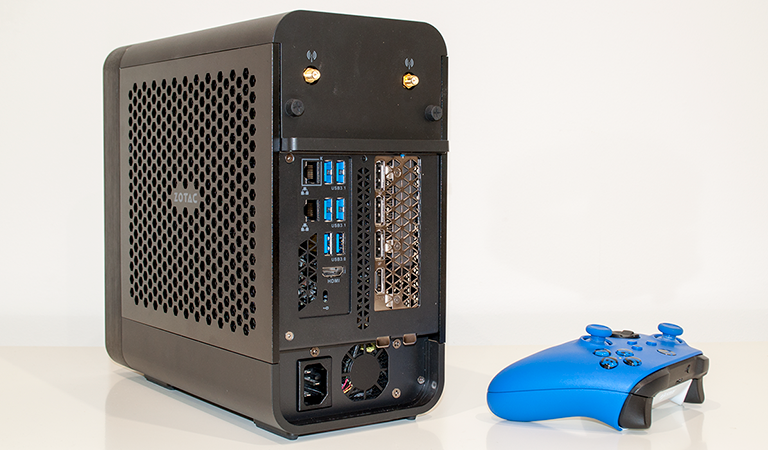 Not cutting-edge stuff - both CPU and chipset have been superseded with newer models - yet eight cores and 16 threads from a 65W chip ought to pack a punch, and on the other side of the motherboard there's room for a discrete 8GB Zotac Gaming GeForce RTX 3070 graphics card. The CPU and GPU combination bodes well for both productivity and high-quality gaming, and connectivity is for the most part well stocked.
In addition to the four graphics card outputs (one HDMI 2.1, three DisplayPort 1.4), the back of the unit is home to two USB 3.2 Gen 1 Type-A, four USB 3.2 Gen 2 Type-A, Intel Gigabit Ethernet, Killer 2.5Gb Ethernet, a pair of antennas for the internal Killer AX1650 Wi-Fi 6 chip, and at the bottom a kettle plug for the integrated slimline 500W Platinum power supply.
Around front, beneath the backlit power button, is a headphone jack, an SD card reader and two further USB ports; 3.2 Gen 1 Type-A and 3.2 Gen 1 Type-C. It's a real shame the front USB ports are of the slower 5Gbps variety - the Type-C really ought to be 10Gbps at the very least - but we are pleased to see both 2.5GbE and Wi-Fi 6 connectivity featured as standard.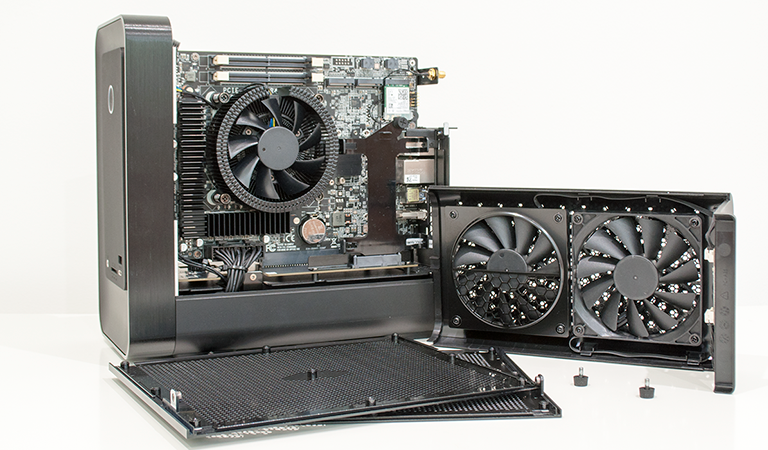 Getting inside the system is wonderfully simple. Undo a pair of thumb screws, slide the top cover back to remove, and then lift out the ventilated side panels. The whole process takes seconds, and two SO-DIMM slots, two M.2 storage slots and a 2.5in SATA 6Gbps storage bay are all easily accessible, making it simple for users to add the necessary parts to convert the barebone unit into a fully-functioning PC. Even the LGA 1200 CPU is upgradeable, and if you plan to swap out the graphics card at any stage, you just need to make sure the replacement is a dual-slot design measuring less than 230mm in length.
Zotac sent along a basic 8GB (2x4GB) DDR4-2400 memory kit for the purpose of this review, and we opted to add a 1TB Kingston A2000 NVMe PCIe SSD for storage duties alongside a clean 64-bit install of Windows 10 Home. Do note that the H470 chipset officially supports up to 64GB of DDR4-2933 memory, and with the board limited to PCIe 3.0, don't rush out to buy an ultra-fast PCIe 4.0 SSD.
Putting it all together is quick and easy - there is a knack to slotting the side panels back in place - however we haven't yet mentioned the elephant in the room that is cooling. Given the tight confines, dealing with heat output was always going to be the Zbox Magnus One's biggest challenge, and Zotac uses half-a-dozen fans to get the job done. That's one 75mm atop the low-profile CPU heatsink, two 100mm on the graphics card, two 90mm top exhausts, and a tiny fan on the back of the PSU.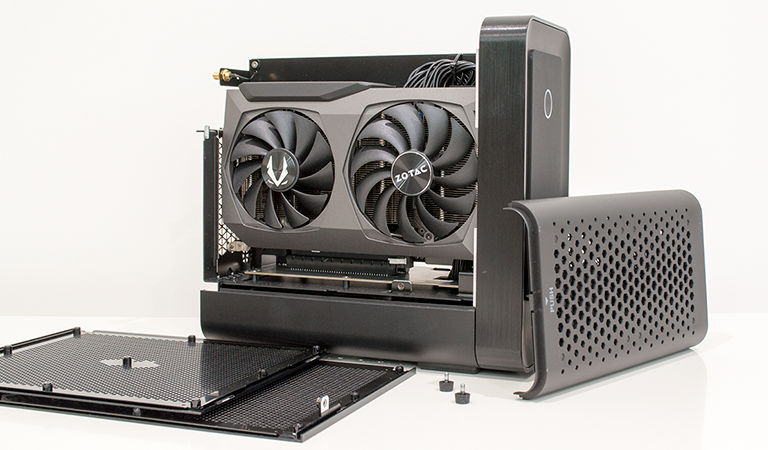 Lots of ventilation and lots of fans, yet the end result is far from ideal. Our upcoming benchmarks will show the CPU is quick to throttle, but more importantly, the fans combine to create a cacophony of noise that is bordering on unbearable for a system designed to sit in front of you. We're already wondering if, say, a Noctua NH-L9i would fit in place of the stock CPU cooler, and whether or not higher-quality top exhausts would make much of a difference.
What's certain, and perhaps inevitable, is that mini PC status in this instance is achieved at the expense of peak performance and high noise. Let's run the benchmarks to see exactly how things stack up.