Gigabyte has launched four new BRIX small form factor PCs. All of the systems are based upon Intel Skylake processors, come equipped with Thunderbolt 3 USB Type-C interfaces, and can fit an M.2 SSD. Two of the models are suffixed 'HT' and these are 46.8mm tall, rather than 34.4mm tall, they offer added capacity for a 2.5-inch drive up to 9.5mm thick.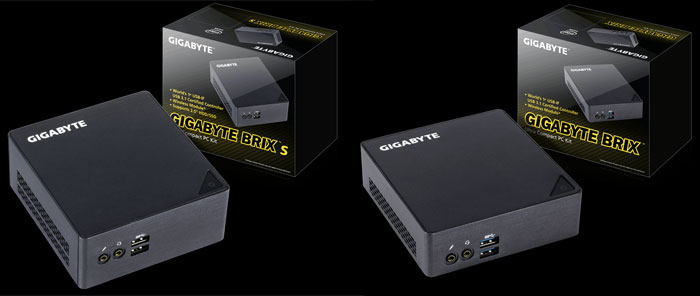 The four new Gigabyte BRIX are the GB-BSi5T-6200, GB-BSi5HT-6200, GB-BSi7T-6500 and GB-BSi7HT-6500. As you could probably guess from the model numbers, those four BRIX PCs are basically two variants of two models; in 34.4mm height and 46.8mm height (HT). Another clue from the model numbers is of the Intel processors powering these BRIX. The GB-BSi5T-6200 and GB-BSi5HT-6200 are powered by an Intel Skylake Core i5-6200U processor while the GB-BSi7T-6500 and GB-BSi7HT-6500 are equipped with the more powerful Core i7-6500U CPU. Both those processors offer 2C/4T, with the i7 offering faster base and boost frequencies. The built-in GPUs are the same Intel HD Graphics 520 with a base frequency of 300MHz and boost of 1GHz (1.05GHz for the i7 chip).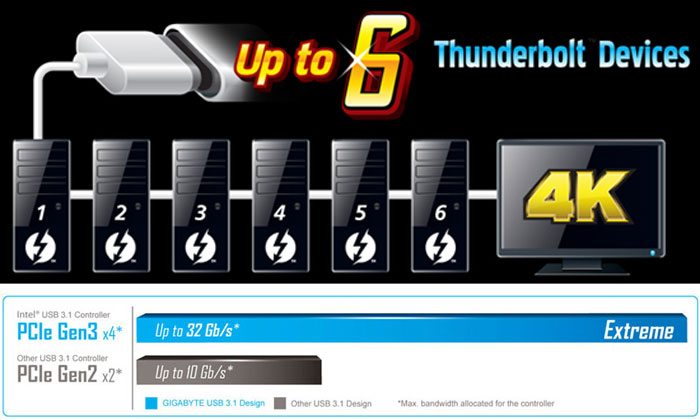 Gigabyte is promotiong the new BRIX quartet as ideal for a discreet HTPC/multimedia hub, an ultra-low power PC for the family, an office PC or as a digital signage unit. The Thunderbolt 3 port can offer a bandwidth of up to 40Gb/s and supports DisplayPort 1.2, which is able to drive a 4K resolution display at 60 FPS, and USB 3.1, and is also backwards compatible with USB 3.0 and USB 2.0. Six devices can be daisy chained to this port. Furnthermore, thanks to the Thunderbolt 3 port and the built in dedicated Mini-DP and HDMI 2.0 ports the BRIX systems make useful multi-monitor systems. They are built into discreet brushed aluminium chassis but can be tucked away behind a monitor or TV, for example, using the supplied VESA bracket.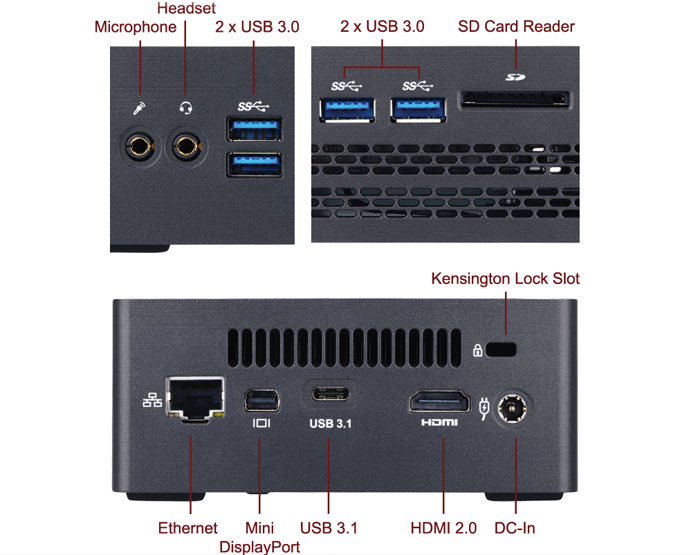 I've tabulated the key system specs of the four new BRIX below:
Size: 34.4 mm x 112.6 mm x 119.4 mm

Size: 46.8 mm x 112.6 mm x 119.4 mm

Size: 34.4 mm x 112.6 mm x 119.4 mm

Size: 46.8 mm x 112.6 mm x 119.4 mm

Intel® Core™ i5-6200U

2.3GHz / 2.8GHz, Intel® HD Graphics 520

Intel® Core™ i5-6200U

2.3GHz / 2.8GHz, Intel® HD Graphics 520

Intel® Core™ i7-6500U

2.5GHz / 3.1GHz, Intel® HD Graphics 520

Intel® Core™ i7-6500U

2.5GHz / 3.1GHz, Intel® HD Graphics 520

2 x SO-DIMM DDR4 slots

2133MHz

Max. 32GB

2 x SO-DIMM DDR4 slots

2133MHz

Max. 32GB

2 x SO-DIMM DDR4 slots

2133MHz

Max. 32GB

2 x SO-DIMM DDR4 slots

2133MHz

Max. 32GB

Gigabit LAN (Intel i219V), Intel® IEEE 802.11 ac ,Dual Band Wi-Fi & Bluetooth 4.2 NGFF M.2 card

Gigabit LAN (Intel i219V), Intel® IEEE 802.11 ac ,Dual Band Wi-Fi & Bluetooth 4.2 NGFF M.2 card

Gigabit LAN (Intel i219V), Intel® IEEE 802.11 ac ,Dual Band Wi-Fi & Bluetooth 4.2 NGFF M.2 card

Gigabit LAN (Intel i219V), Intel® IEEE 802.11 ac ,Dual Band Wi-Fi & Bluetooth 4.2 NGFF M.2 card

Realtek ALC255

Realtek ALC255

Realtek ALC255

Realtek ALC255

M.2 SSD (2280) slot

Supports 2.5" HDD/SSD, 7.0/9.5 mm thick (1 x 6 Gbps SATA 3) and an M.2 SSD

M.2 SSD (2280) slot

Supports 2.5" HDD/SSD, 7.0/9.5 mm thick (1 x 6 Gbps SATA 3) and an M.2 SSD

4 x USB 3.0, 1 x USB3.1 type C, HDMI plus Mini DisplayPort Outputs, SD card reader, Headphone and Microphone Jack

4 x USB 3.0, 1 x USB3.1 type C, HDMI plus Mini DisplayPort Outputs, SD card reader, Headphone and Microphone Jack

4 x USB 3.0, 1 x USB3.1 type C, HDMI plus Mini DisplayPort Outputs, SD card reader, Headphone and Microphone Jack

4 x USB 3.0, 1 x USB3.1 type C, HDMI plus Mini DisplayPort Outputs, SD card reader, Headphone and Microphone Jack

VESA mounting Bracket (75 x 75mm + 100 x 100mm)

VESA mounting Bracket (75 x 75mm + 100 x 100mm)

VESA mounting Bracket (75 x 75mm + 100 x 100mm)

VESA mounting Bracket (75 x 75mm + 100 x 100mm)