ZOTAC has launched the ZBOX MAGNUS EN970 gaming mini PC, which it showed off at Gamescom 2015 last month. A casual computer store browser might expect the ZBOX MAGNUS EN970 to feature an Nvidia GeForce GTX 970 GPU - but no - this mini-PC's key performance components are an Nvidia GeForce GTX 960 with 3GB GDDR5 VRAM and a 5th gen Intel Core i5-5200U CPU.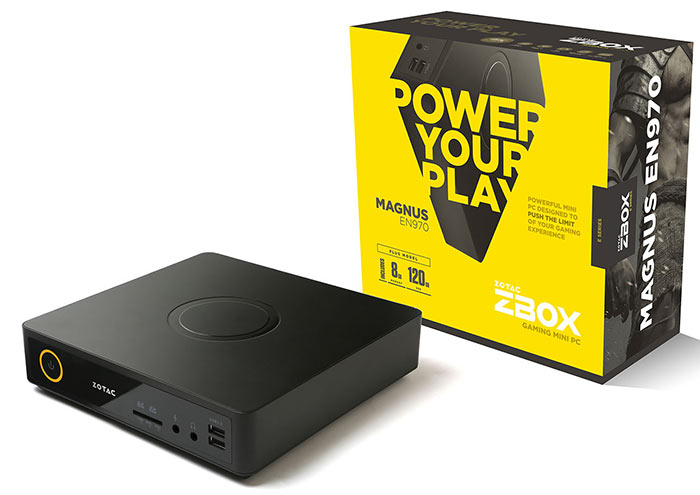 With the ZBOX MAGNUS EN970, ZOTAC says you can "game anywhere". Its compactness, portability and subtle, matte black, minimal design let it fit to many environments "masking the power density lurking beneath."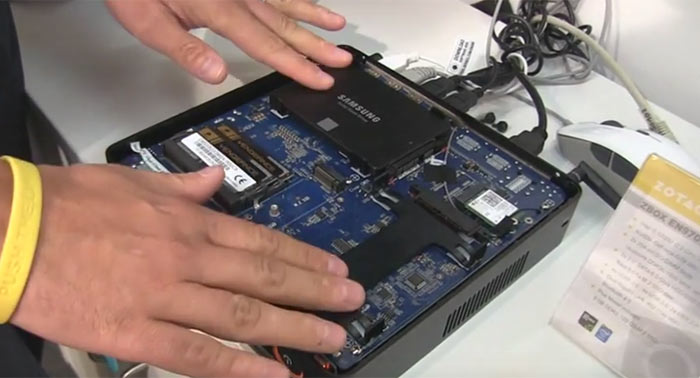 HEXUS was emailed the spec list and I've checked through the official product page but ZOTAC seems to have neglected to mention one of the key specifications of a mini PC of any type: the dimensions. Looking at the internals I've estimated that it measures about 200mm square, a bit bigger than the standard ZBOX chassis which is 188mm square and 44mm deep.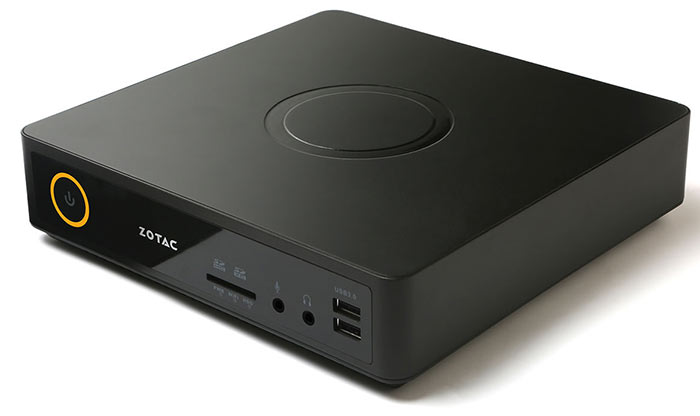 ZOTAC will be supplying the MAGNUS EN970 in both standard and PLUS configurations. The PLUS comes equipped with 8GB of DDR3L memory with one slot free and a 120GB M.2 SSD pre-installed. It doesn't appear to qualify for one of the free editions of Windows, as surely it will be too expensive.
Product

MAGNUS EN970

MAGNUS EN970 PLUS

SKU

ZBOX-EN970

ZBOX-EN970-P

Memory

2 x DDR3L-1600 slots (up to 16GB)

8GB DDR3L (up to 16GB)
one slot free

Storage

1 x M.2 SATA slot2 x 2.5" SATA HDD/SSD slots

120GB M.2 SSD2 x 2.5" SATA HDD/SSD slots

CPU

Intel Core i5-5200U dual core 2.2GHz (up to 2.7 GHz)

GPU

NVIDIA GeForce GTX 960 (3GB GDDR5, 192-bit)

Display Options

4 x HDMI 2.0

Card Reader

3-in-1 (SD/SDHC/SDXC)

Ethernet

Dual 10/100/1000Mbps

Wi-Fi

802.11ac + Bluetooth 4.0

USB Ports

4 x USB 3.0, 2 x USB 2.0

Audio

HDMI Audio, Headphone, Microphone

DirectX Support

12

Other Features

NVIDIA SURROUND, RAID 0/1

HDCP

Yes

Windows

Windows 7 / 8 /10 ready

Particular feature highlights of the ZOTAC ZBOX MAGNUS EN970 gaming mini PC, beyond the CPU, GPU and compact form factor are; quad display support via NVIDIA Surround, dual gigabit LAN and 802.11ac Wi-Fi networking, RAID-ready storage setup, plus plenty of USB slots and a convenient card reader.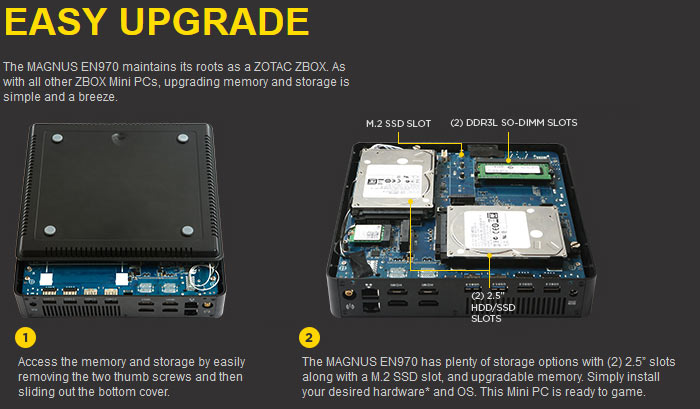 Pricing and availability are yet to be announced.