At PAX Prime this weekend Corsair revealed the 'production version' of its Bulldog DIY 4K Gaming PC barebone. We first saw the Bulldog at Computex earlier this year. Corsair's reveal of the Mini-ITX based PC kit aroused our interest enough to make a video of the machine at Corsair's booth, showing various internals.
The purpose of the Corsair Bulldog is to create a 'no compromises' 4K PC gaming experience to the big screen in your home. Corsair leveraged its PC cooling and construction technology to create the Bulldog barebones system. Now Corsair has shown off and detailed the 'production ready' version at PAX. Its "refined and fine-tuned Bulldog," is now all-black with a high gloss front face and is built from steel and polymer with stronger stout legs.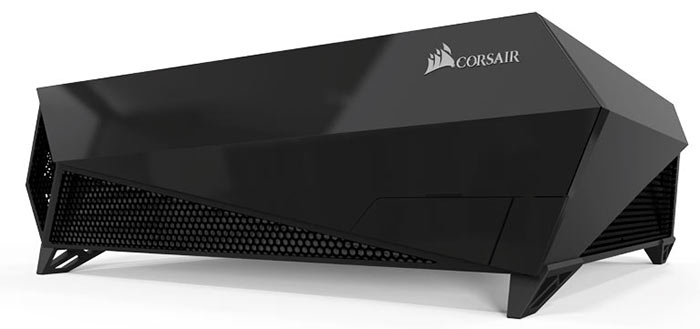 Bulldog DIY kit:
Bulldog chassis - Highly ventilated, stylish, compact console design enhances living spaces and keeps PC components cool and quiet
600 watt SFX power supply - Highly-efficient, cool and quiet in standard form factor
Hydro Series H5SF small form factor liquid CPU cooler - Quietly cools the fastest CPUs while exhausting heat from the chassis.
Mini-ITX motherboard

Intel Z170 chipset with support for 6th generation (Skylake) Intel Core processor
PCI Express 3.0 16x slot
2 memory slots with support for 32GB of DDR4 at 2400MHz+
USB 3.0 and SATA ports
7.1 channel audio, via S/PDIF optical or 3 analog ports
Gigabit Ethernet, WiFi 802.11 a/b/g/n/ac, and Bluetooth 4.1

MSRP: $399 USD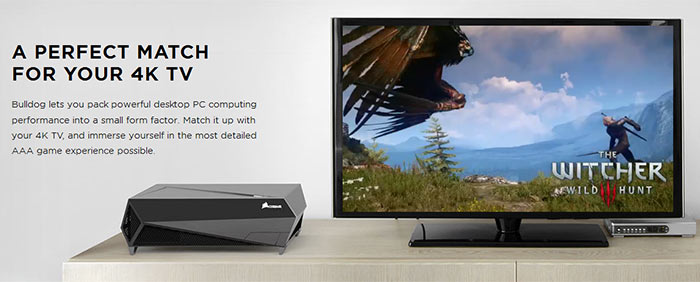 As you can see from the spec list above, the Bulldog kit includes the console-sized chassis, an ultra-efficient SFX power supply, a Corsair compact liquid CPU cooler, plus a mini-ITX Intel Z170 motherboard. To complete your tool-free upgradeable build you simply need to add your own choice of Skylake processor, RAM and storage – and of course you will also probably want a dedicated graphics card. Corsair says that it has worked with MSI to create a liquid cooled GeForce GTX 980 Ti graphics card which would be a great choice for this system.
The Corsair Bulldog will be available late in 2015, according to the press-release, or Q1 2016 according to the official website. It will be made available sans-motherboard for $299, as specced above for $399, and in full systems from Corsair partners, priced depending upon components. But don't forget your Lapdog…