Hertfordshire-based Imagination has launched a new single board computer platform called the MIPS Creator CI20 development board. Its aimed at Linux and Android enthusiasts who might want a little more power and a few more modern features on tap than offered by platforms such as the Raspberry Pi.
Announcing the launch, Alexandru Voica wrote on the Imagination Tech blog "For the first time in the history of computing, MIPS and PowerVR meet in an affordable Linux and Android development board that will be easily accessible to everyone." He went on to say that those interested will be able to snaffle a Creator CI20 direct from the firm and the boards are now available for pre-order. Shipping is expected to start in late January with orders from North America and Europe being fulfilled first. The price of the board is currently set at $65 / £50.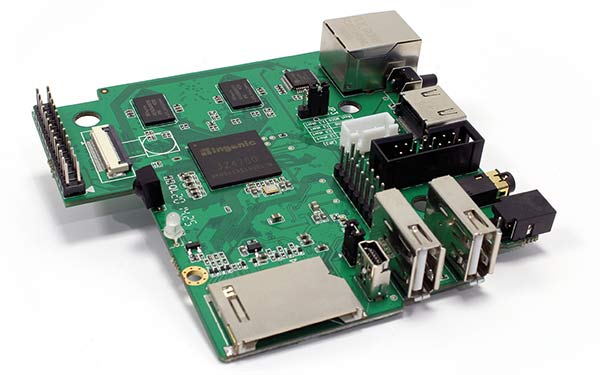 So what do you get for your cash? The hardware spec is summarised below in a bullet point list:
Processor: 1.2 GHz dual-core, MIPS32-based Ingenic JZ4780 SoC, 32kB L1 I- and D-cache, 512kB L2 cache
FPU: IEEE754 Floating Point Unit, XBurst MXU
Multimedia: PowerVR SGX540 GPU, hardware-accelerated video playback up to 1080p at 60 fps
Memory: 1 GB DDR3 SDRAM, 4 GB flash memory, 1 x SD card
Audio: AC97 audio, via 4-pin input/output jack and HDMI connector
Camera interface: ITU-R BT.645 controller
Connectivity: 10/100 Ethernet, 802.11 b/g/n, Bluetooth 4.0
Display: 1 x HDMI up to 2K resolution
USB: 1 x USB host, 1 x USB OTG device
I/O peripherals: 2 x UART, 25 x GPIO, 2 x SPI, I2C, ADC, expansion headers, 14-pin ETAG connector
Since the Creator CI20 was first revealed to the development community it has passed several important milestones, says Imagination. Most importantly Android 4.4 KitKat can be installed with all the fully-compliant GPL code (including ART) ready to go.
Common uses for these microcomputers are as HTPC or arcade emulator platforms and the Creator CI20 performs admirably in these tasks, we are told. For multimedia entertainment the "Creator CI20 delivers up to 3x more CPU horsepower than its direct competitor and includes a dedicated video decoder, you can easily port XBMC, Plex or similar media players," says the Imagination blog. For games and emulators the Creator CI20 also trounces its crust covered fruit-filled rival. Furthermore with PowerVR SGX GPU support for OpenGL 2.1 and OpenGL ES 2.0 people have already been playing games like Quake and Temple Run.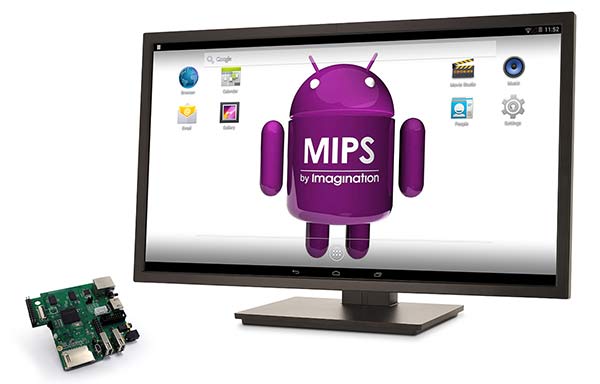 More modern connectivity options such as Wi-Fi and Bluetooth 4 on board help this single board computer fit in better with the modern technology in your pocket and your home and movements like the IoT and home automation. Overall the board has great potential and it will be interesting to see if it offers an attractive enough balance of capabilities and price to lure enthusiasts away from rivals. For me the price sounds about right but the MIPs architecture might mean that its less immediately useable than the more common ARM architecture boards for you, depending on your choice of operating systems and applications.