Last week we saw ASUS launch its GR8 Console PC, which was a Steam Machine readied for the SteamOS and the Steam Controller (which is delayed until next year). The non-show of the Valve 'components' didn't cause ASUS to abort its GR8 design, just repurpose it. Now it seems like Alienware is following suit as it revealed the Alienware Alpha at E3.
High five! Unfortunately the link shown at the end of the video doesn't work at this time.
The Alienware Alpha is the same Alienware Steam Machine we have seen on HEXUS previously; this Windows version will ship in September and be priced at $550 (a direct conversion equates to about £325). That looks like a very keen price and could be behind the Alienware boss telling the WSJ last month that these machines "will absolutely be the least profitable system we ever sell".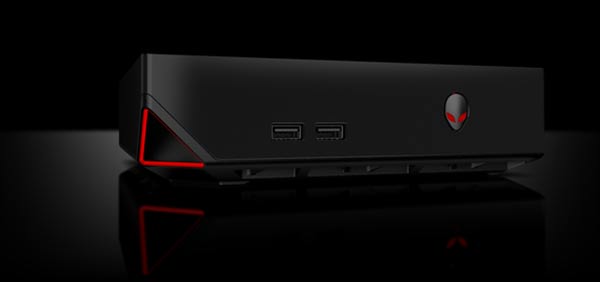 The $550 Alienware Alpha key specs are as follows:
Intel Core i3 Haswell processor
Custom Nvidia Maxwell-based GPU with 2GB of dedicated GDDR5 memory
500GB SATA 3 HDD
4GB of 1600MHz memory
Dual-band Wireless-AC 1x1 with Bluetooth 4.0
HDMI-out, HDMI-in (with pass-through), Gigabit Ethernet, optical audio out, two USB 3.0 ports, two USB 2.0 ports
And a gamepad (Xbox 360 controller) is included
Soldered-in Nvidia GPU is not upgradeable but many other key components are
Alienware will also be offering specifications above this base level, such as; Core i5 and i7 processors, more RAM and more storage. Looking at user upgradeability, something not usual for 'consoles', Alienware general manager Frank Azor told PCWorld that "Alpha is fully upgradeable, other than the graphics chip. You can change the hard drive, the memory, the CPU, even the wireless card if you wanted to. All of those things are fully upgradeable, but if you really want a product that was design for easy upgrades, you'd get the X51 or the Aurora that we offer.…"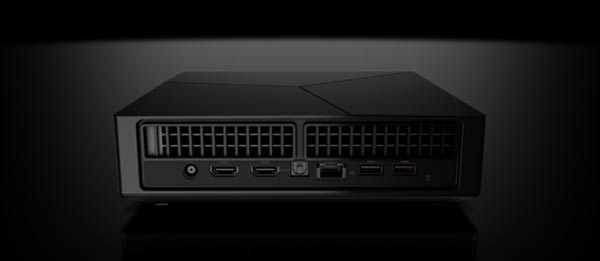 The Nvidia Maxwell GPU is soldered to the mainboard. While Azor wouldn't indicate what the Maxwell chip is equivalent to, compared to what is available in PC add-in cards right now, he did say it would offer performance comparable to the Xbox One and PlayStation 4. The whole system would use less power than either of those next gen consoles though.
While the Alienware Alpha ships without SteamOS installed, or a Steam Controller, early adopters will be able to switch OS later without voiding their warranty. In the Windows 8.1 OS as installed with 'console interface', Steam Big Picture is still an important access point for getting to games on this PC, suggests Alienware.