At a recent event in London, as part of its "NEW IDEA" Tech Tour 2013, Gigabyte showed off its Brix mini PC. The ultra compact PC measures just 114.8 x 108 x 29.5 millimetres and weighs only 404 grams. Even though it is very small the Gigabyte Brix can be provided in "low to high power" configurations; with choices spanning the Intel CPU range from Celeron 1007U to the Core i7-3537U.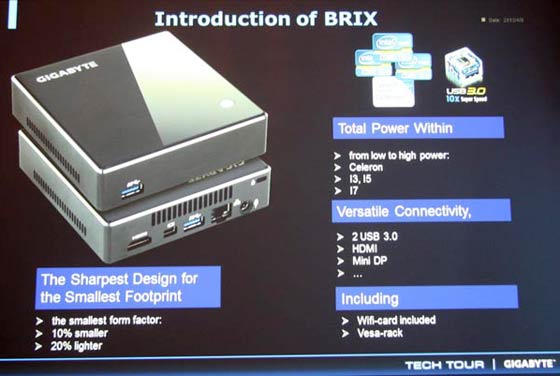 This new Brix computer is Gigabytes own version of the Intel NUC. As Tarinder concluded that the Intel NUC is basically a "screenless Ultrabook", so is the case with the Gigabyte Brix. It relies upon "the low-power versions of Intel's Celeron-1007U, Core i3-3227U, Core i5-3337U and Core i7-3537U processor" with TDPs of 17 watts or less, the same as an Ultrabook, and also the integrated Intel HD graphics are utilised.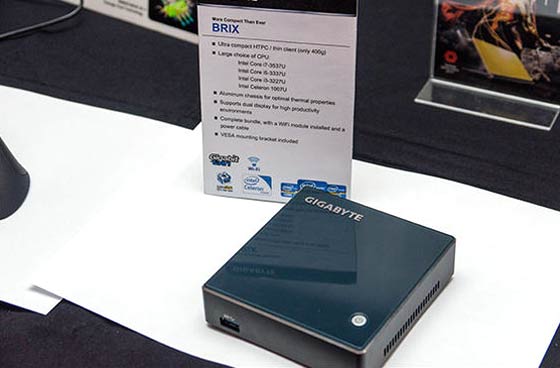 Let's have a pick through the specs on offer in the Brix:
Processor: Choice of Celeron-1007U, Core i3-3227U, Core i5-3337U or Core i7-3537U processor, utilises Intel HD graphics
Memory: up to 16GB DDR3 RAM using 2x SO-DIMM slots
Storage: mSATA SSD connection
Ports: Mini-PCIe Wi-Fi card installed, Gigabit LAN (not on Celeron model), HDMI out, Mini DisplayPort, 2 x USB 3.0, RJ45
Dimensions: 114.8 x 108 x 29.5 millimetres, weighs 404 grams, VESA mountable
Gigabyte says the Brix offers "the same power as a tower PC" in "the sharpest design for the smallest footprint." We don't have any pricing indications as yet but the Brix is "expected to launch in the UK within the next few months" so we will know about its affordability by that time.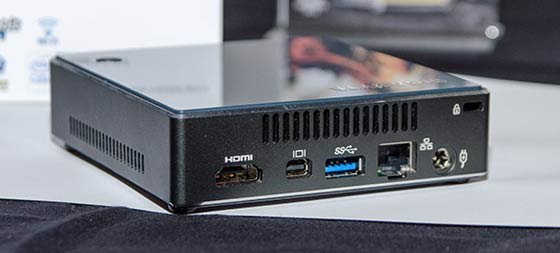 Gigabyte Brix competition
The Intel NUC kits including the case are currently only available with a choice of Celeron or i3 CPUs. Intel NUC systems are 116.6 x 112 x 39 millimetres. Another similar sized PC produced by Zotac, called the Zbox Nano, is available with various AMD APUs installed or choices of Intel processor from Atom to Celeron. The Zbox Nano measures 127 x 127 x 45 millimetres.