ARCTIC has informed us that its svelte, passively-cooled MC001-E Home Theatre PC (HTPC) is now going to come pre-installed with the latest XBMC 12 (Frodo) and Openelec Linux software. This software-upgraded version of the MC001-E HTPC, known as the MC001-XBMC-(EU), packing a 1TB drive, is also on a half-price special offer right now direct from ARCTIC for €199.00.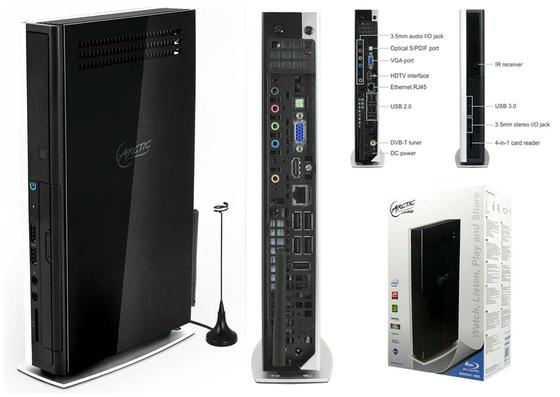 click to zoom in
ARCTIC's sales blurb describes the MC001-XBMC as a "full-system media centre (which) fulfils all your home entertainment needs". Furthermore the system is based upon the latest edition of XBMC 12 (Frodo), is ready-to-use and should be able to play virtually "all popular audio and video formats in HD 1080p" straight from the box.
The ARCTIC MC001-XBMC has the following key specifications:
CPU

Dual Core Intel Atom D525 (1.8GHz)

Graphics

ATI Mobility Radeon HD 5430, 512MB GDDR3

Chipset

Intel NM10

Storage

1TB 5400RPM 2.5-inch HDD, DVD-RW 24x ODD

Memory (RAM)

2GB DDR3 1333MHz

Connectivity

IEEE 802.11 b/g/n, 10/100/1000 Ethernet, 3.5mm audio I/O jack x 6 (7.1 OUT x 4, LINE IN x 1, Mic x 1), SPDIF port/optical x 1, VGA port x 1, HDTV interface x 1 (HDTV cable included), Ethernet RJ45 port x 1, USB 2.0 port x 5, DC power jack x 1 + Front Panel IR receiver x 1, USB 3.0 port x 2, 3.5mm stereo I/O jack x 2 (Headphone, Mic), 4-in-1 memory card reader x 1

+ Optional TV Tuner

Audio

Onboard analog stereo high-definition audio (ALC892)

7.1- Dolby True HD or DTS HD Master Audio (HDMI)

Dimensions

w/o stand: 143 L x 40 W x 266 H mm, 3.1Kg

OS

XMBC 12, OpenELEC 3.0
Also ARCTIC offer a standard 2 year guarantee.
If you are unfamiliar with the XBMC media centre system check below for a brief overview of this popular HTPC hub software.
Using the functionality built into the latest XBMC software and the ports and connectivity on offer from the MC001-XBMC-(EU) you will be able to utilise this living room friendly PC to:
Watch and record TV programs via the TV tuner
Stream music from other smart connected devices to the HTPC
Listen to live internet radio stations
Use your smartphone/tablet as a smart remote for the XMBC software
Use this HTPC as a NAS device
And play files in these formats; MP3, M4A, AAC, WAV, WMA, MP4, WMV, AVI, MKV, RM/RMVB, DiVX, H264, ALAC, FLAC, OGG and more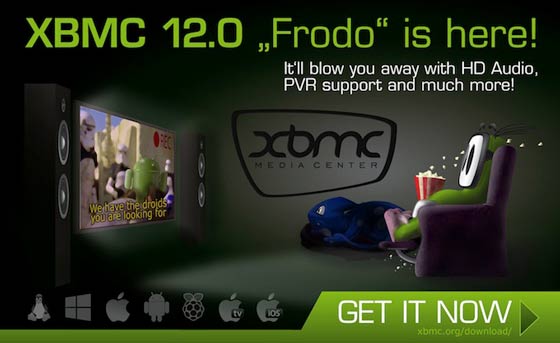 Barebones versions
For further flexibility ARCTIC offer barebones versions of the MC001-E HTPC, which of course you will have to configure with software for yourself. If the cheaper prices or DIY configurability appeal to you there are two barebones versions of the MC001-E HTPC available from Amazon.de right now for €99.95, or the same barebones HTPC including a slimline 24x DVD-RW drive fitted costs €119.95. Both of these barebones kits do include a DVB-T tuner but you will need to add your own DDR3 SO-DIMM and choice of 2.5-inch disk drive.