Gigabyte has an interesting all-aluminium mini PC case on display it its booth at the CES. It looks to be the same size and shape as an Intel NUC system but this Gigabyte mini PC has more powerful components and a better selection of I/O.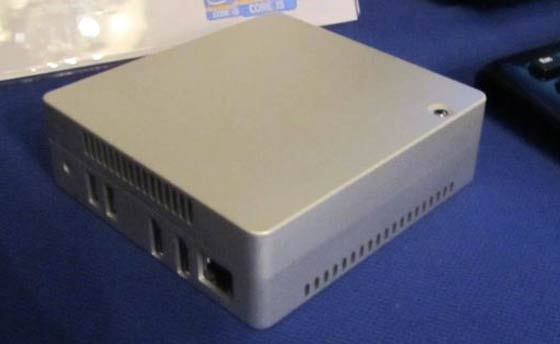 Like the Intel NUC, the new and as yet unnamed, Gigabyte mini PC is a 4-inch square box. For reference, the current Apple Mac mini is 7.7-inches square. Gigabyte's vented aluminium case looks a lot nicer than the Intel NUC we had in the HEXUS labs. The size of the unit and arrangement of the back ports suggest it contains a tweaked version of the Intel NUC motherboard design. Reports late last year suggested a new NUC system would get a thunderbolt connector and the Ethernet connection would be retired but that isn't the case with Gigabyte's new mini PC.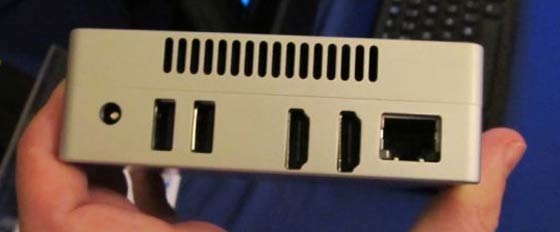 Liliputing had a touchy-feely session with the new Gigabyte mini system and reveal that the "Thin Mini PC" has USB 3.0 connections (where the Intel NUC was USB 2.0 only), HDMI input and HDMI output ports, an Ethernet connector and built-in Wi-Fi. The device supports up to 8GB of RAM, an Intel Core i7 chip and 256GB SSD.
If you squint at Gigabyte's system description you can see the new mini PC;
Supports Intel Core i3, i5 and i7 CPUs up to 17W
Uses up only 0.3 litres of your precious room area
Has an aluminium chassis for strength and thermal properties (looks nice too)
Has a low power design so is therefore a "green product".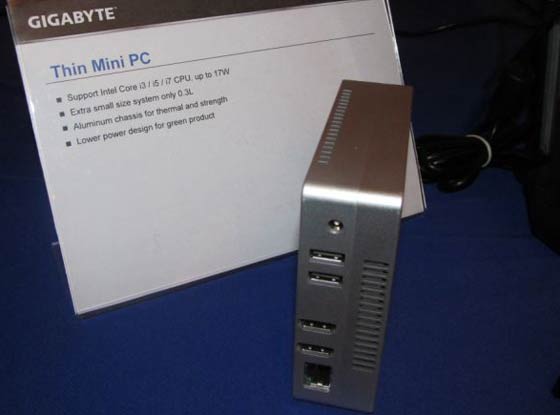 Gigabyte also told Liliputing that the system will be "priced competitively — at least for an entry level model". The prototype in these pictures may get a few final design touches before the expected April launch.