We've yet to test AMD's Fusion platform for ourselves, but the support being shown by the industry can only be a good sign.
We're seeing Fusion-based notebooks and computer systems pour out of this year's CES, and joining the likes of HP, Lenovo and Gigabyte is Zotac, whose ZBox Blu-ray AD03 aims to take Fusion into the living room.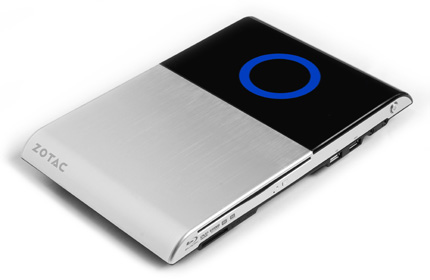 The compact mini-PC, pictured above, isn't entirely new, but unlike previous models, the new AD03 packs a dual-core AMD Fusion E-350 APU complete with integrated Radeon HD 6310 graphics.
AMD's platform is showing plenty of early HTPC potential, and Zotac's ZBox is shaping up to be a neat little number for those who don't want to build their own.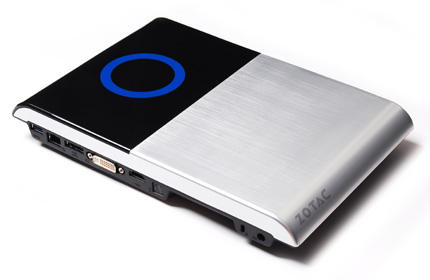 Despite its slim appearance, the system sports 2GB of memory, a 250GB hard disk, a slot-loading Blu-ray optical drive and built-in Wireless N connectivity. The array of ports, meanwhile, is made up of HDMI, DVI and VGA out, as well as Gigabit Ethernet, eSATA, four USB ports - half of which are of the 3.0 variety - and optical output for the onboard 7.1 audio. Oh, and it's VESA-compliant, too, so mounting it to the back of your big-screen TV should be a breeze.
We've yet to hear official details regarding price and availability, but $499 is the figure floating around the Internet. A barebones model - with no pre-installed memory or storage - is said to be on its way for $399.