Yesterday Nvidia made quite a few announcements at the MWC Los Angeles. Company CEO Jensen Huang took to the stage in his signature attire to announce a number of things. The anchoring announcement of the Nvidia keynote was that of the Nvidia EGX Edge Supercomputing Platform. However there were a number of other announcements, each with their own dedicated blog posts too, such as; the collaboration between Nvidia and Ericsson on accelerating virtualized 5G radio access networks with GPUs, the collaboration with Microsoft for the era of intelligent edge, and teaming up with Red Hat for high performance software defined 5G Ran for the telecoms industry.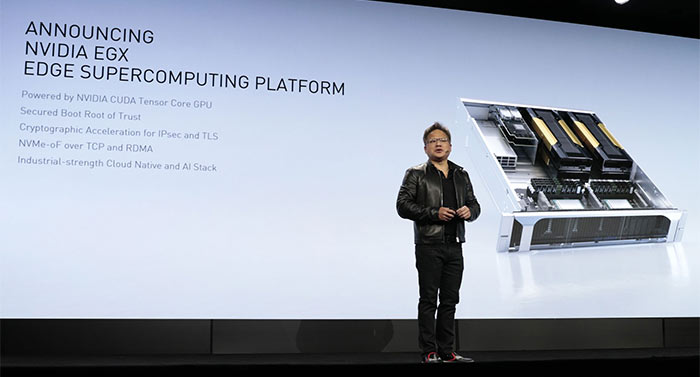 The new Nvidia EGX Edge Supercomputing Platform is a "high-performance, cloud-native platform," that is eminently suitable for delivering next-generation AI, IoT and 5G-based services at scale, with low latency to a multitude of organisations. For example, early adopters of the systems, using Nvidia CUDA-X software, include this diverse selection; Walmart, BMW, Procter & Gamble, Samsung Electronics and NTT East, as well as the cities of San Francisco and Las Vegas.

"We've created the NVIDIA EGX Edge Supercomputing Platform for this world, where computing moves beyond personal and beyond the cloud to operate at planetary scale," said the Nvidia CEO during his keynote. He explained that we are entering an era there are billions of always-on IoT sensors, which will be connected by 5G, and need to be processed by AI. Thus the need for this supercomputer platform, and its popularity at this early stage with a wide range of partners.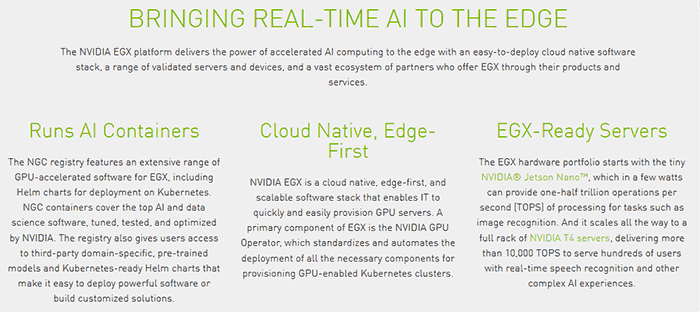 To be clear, the EGX Edge Supercomputing Platform isn't 'a computer' it is a platform designed from certified GPU servers from the likes of Gigabyte, Asus, Fujitsu, Dell and many more, combined with the EGX software stack which opens up Nvidia's CUDA-X software to deliver scalable accelerated AI processing.

Nvidia provides some usage studies, explaining where the likes of Walmart, BMW, and other use EGX Edge supercomputers. In Walmart's case it is said to be used to improve the in-store shopping experience. Thanks to the new supercomputer "Walmart is able to compute in real time more than 1.6 terabytes of data generated each second and can use AI to automatically alert associates to restock shelves, open up new checkout lanes, retrieve shopping carts and ensure product freshness in meat and produce departments," highlights Nvidia.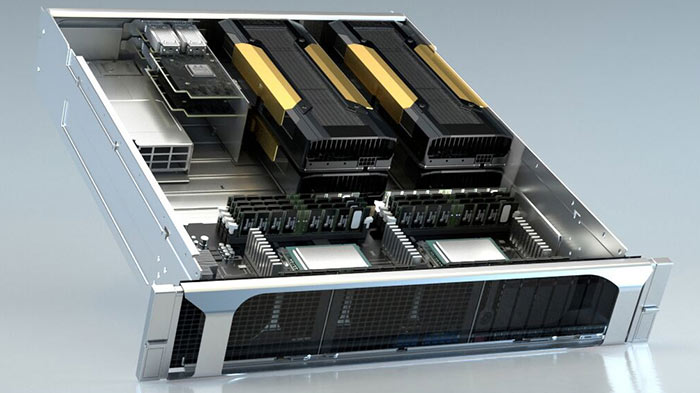 In another example, BMW uses EGX Edge to provide intelligent video analytics from multiple cameras and sensors on production lines. LA and SF use EGX Edge supercomputers for city management, capturing city and pedestrian data for traffic management, safety, and business intelligence.