Intel is preparing its very first Xeon NUC codenamed Quartz Canyon. Fanless Tech spotted the promotional slides for the so called Intel NUC Workstation Kit, in a PDF deck posted to a Russian site. In brief this would be the first Xeon-powered NUC and it comes with your choice of up to 8-Core Intel Xeon E and 9th Gen Core i7 vPro processor, support for high-end PCIe x16 slot discrete graphics cards, and more, and includes a built-in 500W PSU.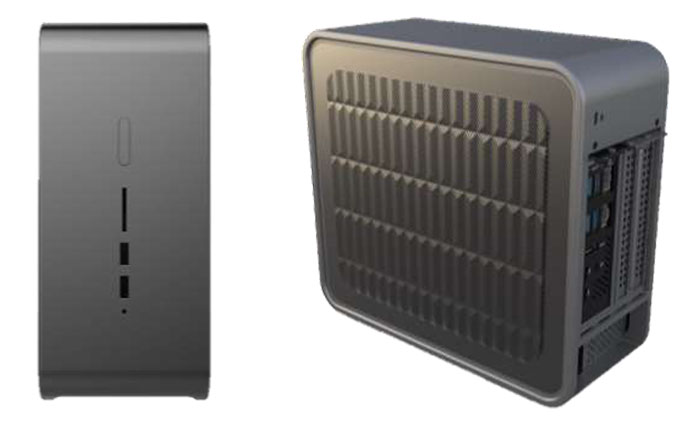 The new Quartz Canyon NUCs will be targeting the entry level workstation market, according to Intel's stated plans. That means organisations and users whose business relies upon moderately demanding content creation, CAD/manufacturing, financial services applications.
As well as the more powerful processor choices in the characteristic 'game changing compact size', the NUC Workstation kits feature several supporting high-end technologies, as follows:
Supports High-End Desktop Graphics Cards
Dual Thunderbolt, Dual Ethernet, Optane & ECC Support
2.4Gbps Intel Wi-Fi 6 AX200
Uncompromised Performance and Configurability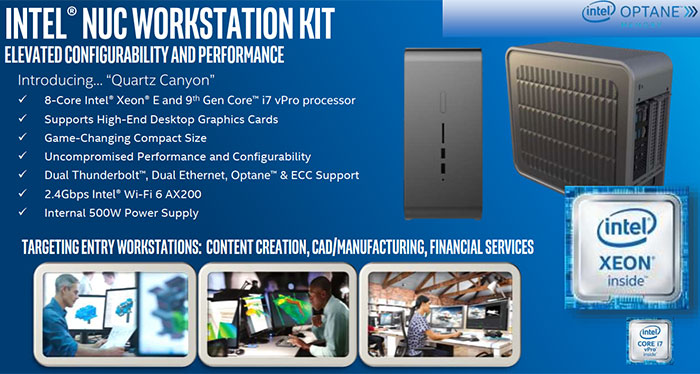 Fanless Tech observes that the Quartz Canyon NUCs are cased in a very similar sized chassis to the consumer-oriented Ghost Canyon NUCs that were previewed last year. It adds that Quartz Canyon NUCs will be actively cooled but there will be some passive options possible. As you can see in the bullet points above, the Quartz Canyon NUCs will offer Dual Thunderbolt, Dual Ethernet, 2.4Gbps Intel Wi-Fi 6 AX200, Optane and ECC DDR4 memory support.
At the time of writing Intel has 23 Xeon E processors in its stables. They appear to max-out at 8C/16T with a base/boost of 3.7/5.0GHz, and a TDP of 95W. However, there is no official indication of which (up to 8-core) Xeon and Core i7 vPro processors will be available in the Quartz Canyon kits.
Pricing and availability can only be speculated upon at this time.