The fanless PC enthusiasts over at FanlessTech have shared a photo of what is claimed to be the upcoming Intel Ghost Canyon NUC mini PC. However, this system is expected to have active cooling of some kind within its 5 litre frame. FanlessTech says that this product won't be released until early 2020 so of course various aspects of the design could change over such a long period.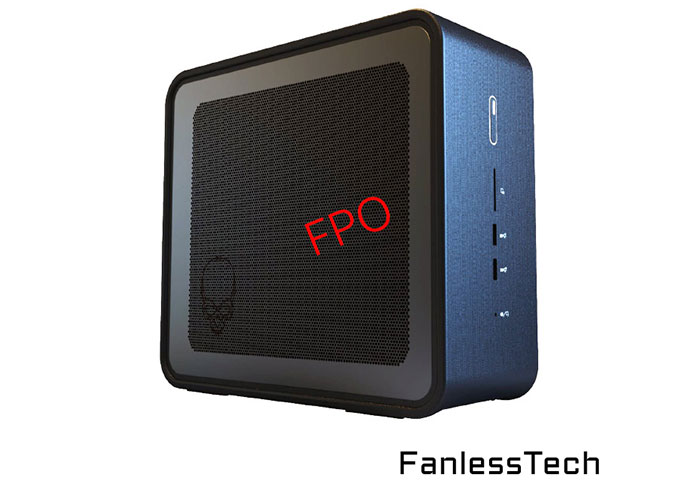 According to the source, the new high-end NUC will be based around an Intel Coffee Lake HR processor with up to 8C/16T and up to 45W. Users will have the benefit of a range of modern connectivity options including three HDMI 2.0 ports, two Thunderbolt 3 ports, and M.2 storage. The star of the show though, may be the PCIe x16 slot for a discrete graphics card within this cleanly designed compact PC.
Considering the physical size of this NUC for a moment, I will provide you with some comparisons. Obviously there need to be room inside the chassis for the optional discrete graphics card and thus this 5l chassis is significantly larger than the Intel Hades Canyon NUC (1.2l) and the 'traditional' NUC designs (approx 0.7l in volume).
The above news provides an interesting follow-up to last week's leakage of Intel Ghost Canyon X NUC plans, as shared by PC EVA, via TechPowerUp. As you can see, there are at least three NUCs planned with hybrid graphics support (Intel UHD plus your choice of PCIe x16 graphics card). At that time TPU speculated that the PCIe x16 option would need to be in the form of an MXM slot, but with the chassis being 5l (rather than under a litre) surely that provides room for a desktop style card.
Click to zoom roadmap images
A 30cm long, a 2.5 slot graphics card I picked 'at random' had a volume of 1.2l. However this NUC can't be 30cm deep/wide as it would be disproportionately thin to form the 5l box as pictured. Rather I'd guess it will be 20cm x 20cm x 12.5cm (equal to 5l capacity) or similar. That might be enough to fit a 170mm long graphics card such as the Gigabyte GeForce GTX 1070 Mini ITX OC 8G, for example, alongside the rest of the components required.