At its annual Tech World Conference 2018 in Beijing, Lenovo has taken the wraps off a rather stunning new PC design. The characteristic form of the new Lenovo Titanium Enterprise PC will be instantly recognisable to anyone with even a passing interest in sci-fi as a likeness of the USS Enterprise (NCC-1701-A) from Star Trek.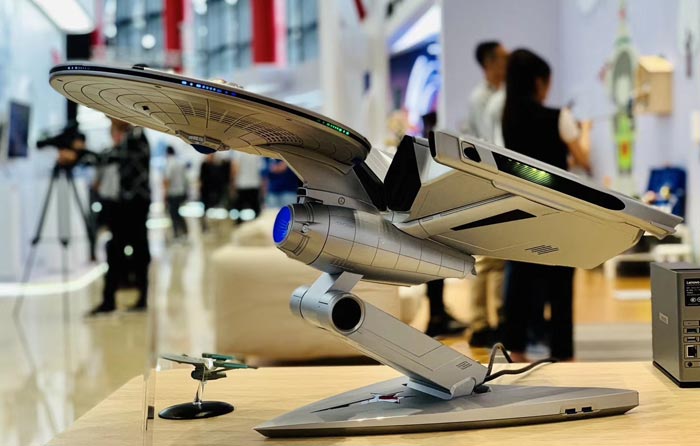 We have seen very many bizarre PC designs at these kinds of shows and exhibitions before. However, there are a few noteworthy points about Lenovo's officially licensed by Paramount CBS effort. Firstly, it sports great specs which will appeal to gamers, and secondly it sounds like it is going to be sold worldwide rather than just being a trade-show curiosity - at a reasonable price.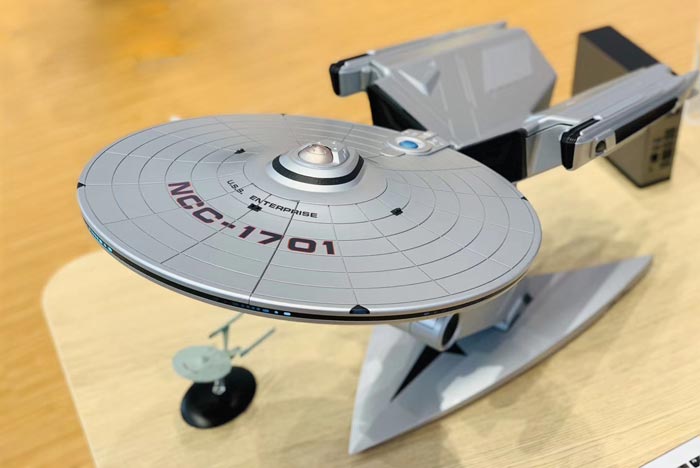 Concerning the Lenovo Titanium Enterprise PC tech specs, Chinese site MyDrivers provided many details and I've bullet pointed them below:
An unnamed (perhaps user configurable) 9th gen Intel Core CPU with factory overclock and 120W TDP
An Nvidia GeForce RTX 2080 graphics card
32GB DDR4 RAM
1TB M.2 SSD plus 2TB HDD
Killer LAN and Killer Wi-Fi networking
Front mounted 400 Lumen projector
Programmable RGB LED lighting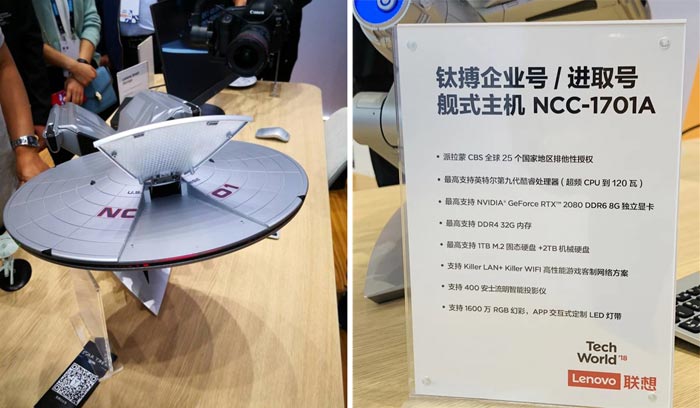 In the images and video you can see the power button is situated in the 'intake' of the space ship's cigar shaped section and the selection of ports are mainly, if not all, in the adjustable base/stand for the PC. Disappointingly, the projector doesn't fire its imagery from the phasers array or photo torpedo section. Instead a segment of the top disc lifts up to reveal the projector lenses.
Pricing is said to be in the 15,000-20,000 Yuan region (US$2,180 to $2,910, or £1,670 to £2,225). This might vary due to processor and other options. The Lenovo Titanium Enterprise PC design is licensed for distribution in 25 countries worldwide but we don't have any info about possible sales and distribution outside of China.