Nvidia boss Jen-Hsun Huang took centre stage at the main Consumer Electronics Show (CES) keynote to launch the latest iteration of Shield - the company's video- and game-streaming set-top box.
Now known exclusively as Shield TV, thereby dropping the Android part of the previous name, the updated version launches in standard 16GB and Pro 500GB flavours. The previous Shield Android TV becomes end of line immediately.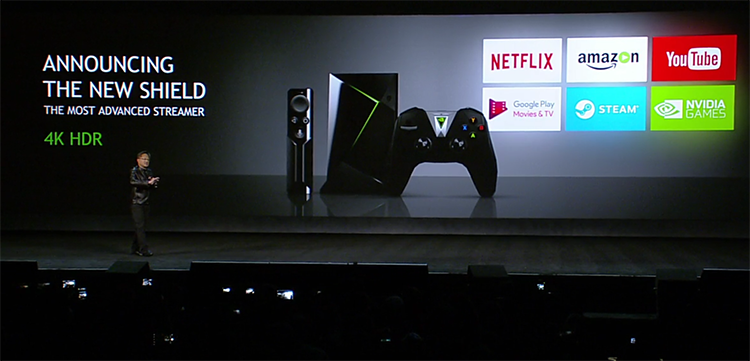 Though the original has been available for 18 months, Nvidia keeps the same Tegra X1 256-core Maxwell-based chip that's supported by 3GB of RAM. It has the same 4K playback available in high-dynamic range (HDR), ostensibly for better contrast and more striking visuals for both games and shows.
Audio remains solid, with support for Dolby Atmos and DTS-X over HDMI. Rather than change what's inside, Nvidia updates the Shield software to Android 7.0 and improves upon the baked-in app selection by adding Amazon Video.
However, in the interim, Nvidia has shrunk the player by 40 per cent, and now bundles in the remote as standard. There's a style change for the controller, too. The smooth lines of the original are replaced by an angular, geometric look.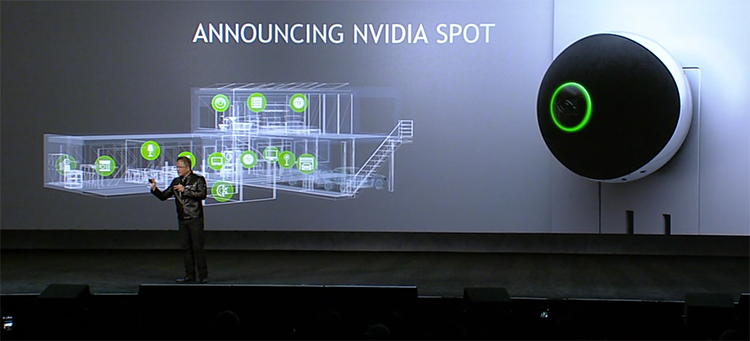 What's more, Shield TV has built in Google Assistant for the first time. Huang also announced the Nvidia Spot - a small microphone that plugs into the wall and connects to the Shield, giving rise to an AI assistant around the home. Huang mentioned that multiple Spots can be installed for home-wide coverage, thus indirectly taking a poke at the fixed-location Amazon Echo.
Shield TV 16GB model will be available from January 16 while the Shield TV Pro 500GB from January 30. Pricing starts from $199 (£189) - the same as the incumbent Shield.
In other news, Huang announced and update to GeForce Now - the cloud-based gaming system whereby, through downloading a small program, users can stream their games catalogue - from Steam, GoG, etc. - through Nvidia Pascal-based servers around the world. Huang showed a Mac running the Nvidia client and playing Tomb Raider at decent image-quality settings.
This iteration of GeForce Now took about 15 seconds to load and seemed to be relatively lag-free in the demonstration. Launching in March, GeForce Now costs $25 for 20 hours of usage - a new method of charging for streaming your own games from the web on computers not capable of running them. Games can also be purchased for, say, Steam and stored and automatically updated on the servers, as well.
We've seen this before with Nvidia Grid, of course, but this potentially extends the GeForce reach to all PCs that are not able to run modern games. We're not sure about the per-hour pricing, though.
You can purchase the Shield at the following stores in the UK.