Gigabyte has introduced a new member of its BRIX line of compact PCs aimed at gamers. The Gigabyte BRIX Gaming GT desktop departs from the Intel NUC influenced designs of old but retains a certain compactness. This extruded oval shaped machine measures 276 x 384 x 128mm (about 10 litre capacity) but it is enough to contain high performance components such as an Intel i7-6700K processor, and your choice of Nvidia GeForce GTX 1070/1080 G1 Gaming graphics card. The product page won't load up at the time of writing but Guru3D has gathered together details of this new BRIX Gaming PC.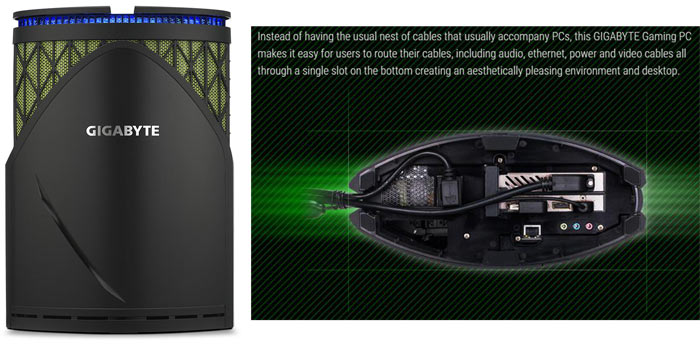 HEXUS reviewed a previous Gigabyte BRIX Gaming PC just a couple of months ago. We could see that the confines of the traditional NUC form factor had started to get literally stretched by Gigabyte's designers with the Gigabyte Brix Gaming UHD (GB-BNi7HG4-950) tower. The newest BRIX Gaming machine goes quite a lot bigger so can easily pack more powerful hardware than October's effort (which was already the largest BRIX desktop machine ever tested).
The specs of the new oval-shaped Gigabyte BRIX Gaming GT are as follows:
Intel 6th Generation Core i7-6700K processor
16GB DDR4 SO-DIMM
1x 240GB M.2 SSD,1x 2.5-inch 1TB HDD 7200rpm
Approximately 10L (276x384x128 mm)
GeForce GTX 1070/1080 G1 Gaming 8GB
Intel Dual Band Wireless-AC 3165NGW
Bluetooth 4.2
Qualcomm Atheros Killer E2400 Gigabit LAN
1x USB Type-C (Support Thunderbolt 3 or USB3.1) 1x USB3.1 Type-A Slot
3x USB 3.0 Type A Slot
Headphone / Microphone
As you can see above, Gigabyte sells the new machine with dual-storage already fitted. The fast SSD could be dedicated to often-used OS and program files while the slower and larger HDD could be used for data and backups, perhaps. There's still room for further storage expansion with a 2.5-inch drive mount vacant in the system as it ships.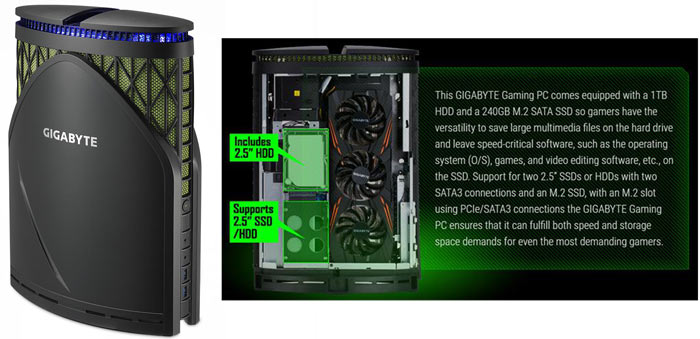 Availability and pricing for the various configurations available hasn't yet been indicated by Gigabyte.