Samsung Electronics has introduced the world's first Universal Flash Storage (UFS) removable memory card line-up. Based upon the JEDEC UFS 1.0 Card Extension Standard these flash memory storage devices are targeted at users wishing to indulge in high-resolution image capture using DSLRs, 3D VR cameras, action cams and drones.
The new UFS memory card range will be made available in capacities of 256, 128, 64 and 32GB. They will bring greater performance and convenience to the memory card market, asserts Jung-bae Lee, senior vice president, Memory Product Planning & Application Engineering, Samsung Electronics.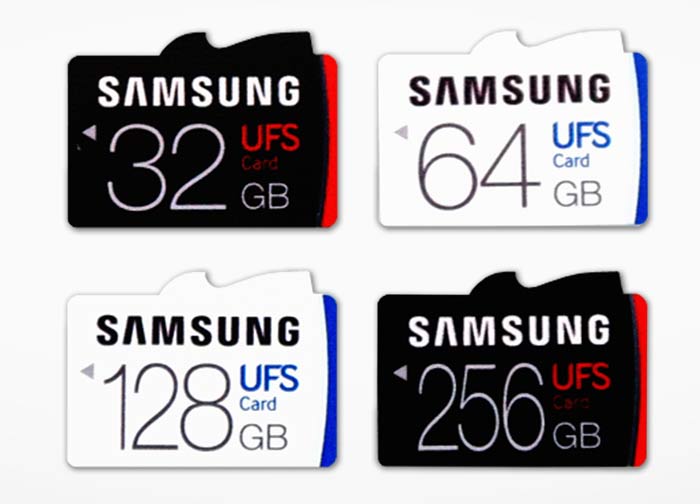 Looking at the all important performance figures, for the 256GB member of Samsung's first range of UFS cards, we are told of the following highlights:
5x faster sequential read performance compared to that of a typical microSD card
530MB/s sequential read speed
2x faster sequential write performance compared to that of a typical microSD card
170MB/s sequential write speed
20x higher random read performance compared to a typical microSD card
Random read rate of 40,000 IOPS
Explaining its performance boost multiples above, Samsung says that a typical microSD offers a 95MB/s sequential reading speed, up to a 90MB/s sequential write speed, with an approximate random read rate of 1,800 IOPS. In real-world performance tests by Samsung the new 256GB UFS card facilitates the reading of a 5GB full HD movie in about 10 seconds, and continuous DSLR shooting of 24 extra fine JPG photos (over 1GB) in under 7 seconds.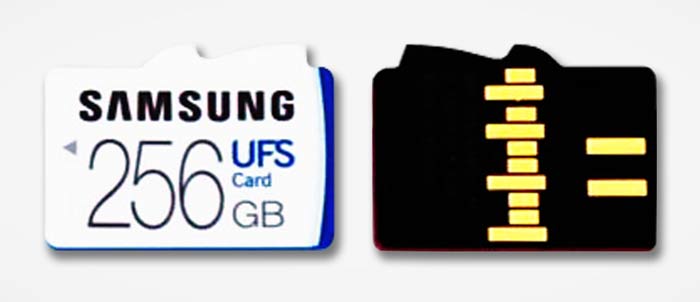 Samsung has been instrumental in preparing the Universal Flash Storage 1.0 Card Extension standard, published in March 2016. It also has embedded UFS storage in high-end mobile devices, providing high performance, energy efficient transfers as standard.
Pricing and availability details for these UFS memory cards is yet to be announced.