Samsung has announced it has started mass production of the industry's first 128GB ultra-fast embedded memory based upon the Universal Flash Storage (UFS) 2.0 standard. The new flash memory standard for storage on next gen smartphones is said to offer a 2.7X better random read IOPS figure than eMMC 5.0. It also benefits the user by consuming 50 per cent less energy.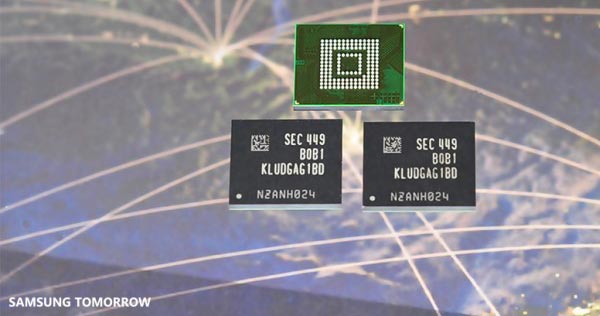 The use of 'Command Queue' technology brings many speed benefits to the new embedded memory chips. Samsung explains that it "accelerates the speed of command execution in SSDs through a serial interface, significantly increasing data processing speeds compared to the 8-bit parallel-interface-based eMMC standard". Some performance numbers are quoted; Samsung says the new UFS memory products offer 19,000 IOPS for random reading and 14,000 IOPS for random writing. Furthermore the sequential read and write performance can reach "SSD levels". Impressively this can all be done while lowering energy consumption by a quoted 50 per cent.
Comparing the new memory to a "typical high-speed memory card," Samsung says the UFS memory offers 12x random read and 28x random write. As the built-in storage in future high-end mobiles this should help the system play back UHD video and multitask more smoothly, for example. The new UFS 2.0 memory storage from Samsung is expected to be deployed in high-end mobiles while mid-market and value devices stay with the cheaper, slower, eMMC solutions. Samsung will make its UFS 2.0 embedded memory available in 128GB, 64GB and 32GB versions.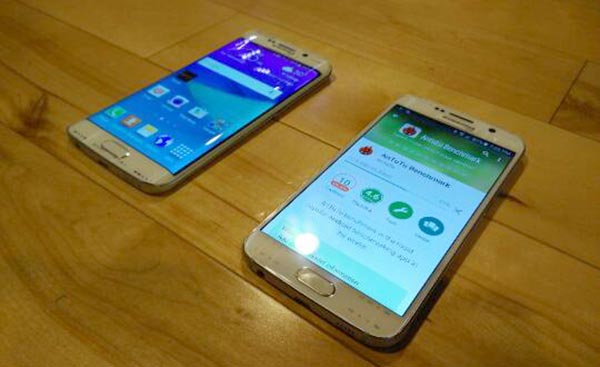 Since mass production of the flash has started we could possibly see this fast UFS 2.0 memory built-in to the Samsung Galaxy S6 and S6 Edge smartphones, due to be announced shortly.