Western Digital demonstrated a super-fast 4TB hybrid drive, at Storage Visions 2015, in Las Vegas yesterday. This prototype SSHD drive combined a SATA Express PCI-e interface, a 4TB 3.5-inch hard disk and up to 128 GB solid state storage. The aim of the prototype is to demonstrate the compelling performance stats of the hybrid storage device.
WD says that its new hybrid drive will deliver highly attractive performance and GB-per-dollar solutions for desktop and gaming applications. It used currently available motherboards developed by both ASRock and Gigabyte in its demos.
We were emailed the chart below which WD says demonstrates "near-SSD performance at an optimised GB-per-dollar value". In some notes about the chart WD wrote that "Heavy desktop usage scenarios will benefit from larger cache sizes (64 GB will be demonstrated) by enabling retention of key hot data across multiple applications, which improves overall performance. In WD's labs, WD's SATA Express 4 TB drive with 64 GB cache achieved a PCMark8 benchmark score of 4459". You can see how the prototype performed in PCMark8 Storage tests compared with other types of drives below.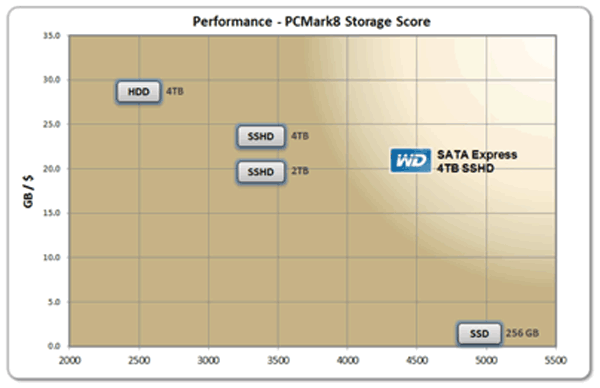 Understandably WD is working to extend the appeal of traditional spinning disc based storage in computer systems. Its hybrid tech does look attractive according to the above PCMark8 tests. Gary Meister, senior vice president of engineering, WD, explained how the demo system worked; "We see the industry moving toward simplification of the overall PC subsystem to a single storage bus based around the PCIe protocol. In this demo, we placed a hard drive, flash NAND and SATAe technology into one package, freeing up one slot in the system and simplifying how our customers could create and maintain such an advanced storage solution." He went on to predict "When our customers ask us to move to the next storage bus, we will have done all the necessary work to be ready to support the move."
ASRock and Gigabyte were also pleased with the prototype, suggesting it could be the foundation of future "world class gaming" machines. Unfortunately we don't have any information about the availability or pricing of WD's future hybrid storage products.