SanDisk has announced the world's highest capacity SD card, the 512GB SanDisk Extreme PRO SDXC UHS-I memory card. Its part of a new range, available in sizes of 128GB, 256GB and 512GB. The company claims to have increased SD card capacities by 1,000 times in just over a decade, from its first 512MB SD card released in 2003 to this half terabyte card today. We are told that this new SDXC card range is designed especially to meet the demands of videographers and industry professionals who record 4K Ultra High Definition (3840x2160p) videos and indulge in high-speed burst-mode photography.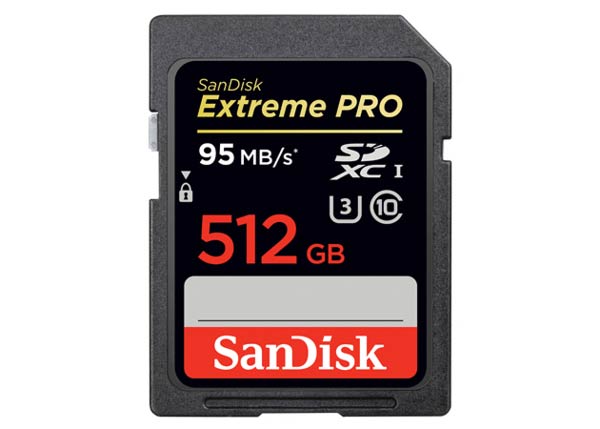 "4K Ultra HD is an example of a technology that is pushing us to develop new storage solutions capable of handling massive file sizes. The 512GB SanDisk Extreme PRO SDXC UHS-I card is a tremendous advancement that enables professionals to reliably store more content on a single card than ever before," said Dinesh Bahal, vice president, product marketing, SanDisk, in a press release.
The 512GB SanDisk Extreme PRO SDXC UHS-I memory card is designed to meet the data capture rate required to support 4K UHD video to be stored live, with a maximum write performance of 90MB/s. It also boasts a 95MB/s transfer rate to quickly download the data to a suitable laptop or PC post-capture. In addition, this 'Extreme' SD card range is built to robust standards to help keep your stored media secure. It has been tested in temperatures from -13 to 185 degress Fahrenheit, it is water proof, shock proof, and x-ray proof.
SanDisk's new Extreme PRO SDXC UHS-I memory card range comes with a lifetime warranty and, as mentioned in the intro, is available in capacities of 512GB, 256GB and 128GB. The 512GB version will be priced at $799.99, that's a fantastic capacity for a single card but a lot to lose all at once if you were unfortunate, negligent or clumsy. SanDisk supplies RescuePRO Deluxe data recovery software in case you accidentally delete any files that you wanted to keep.